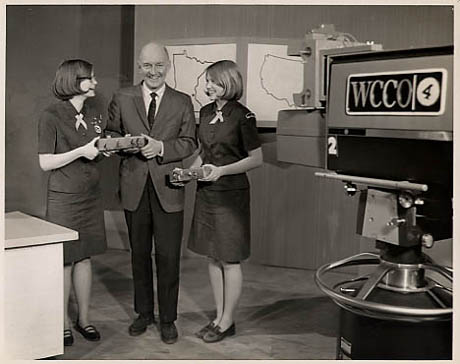 Friends were hoping to gather in a couple of weeks to celebrate the 97th birthday of WCCO legend Bud Kraehling.
Yesterday, organizers canceled the celebration after the family said he'd taken ill recently and had been moved to hospice care.
This morning, WCCO announced Kraehling's death.
The Minnesota Broadcasting Hall of Fame, in which he was installed as a charter member, described Kraehling as "one of Minnesota's best known and best loved television personalities."
In 1946 he came to the Twin Cities as an announcer at WTCN Minneapolis/Saint Paul, and entered television on WTCN TV (now WCCO TV) in 1949. In 1950, he began a five-minute 10:00 PM television weather report for Taystee Bread. Over the next decades, he saw many changes in television weather coverage.

He wrote forecasts on the "Weather Window" for crowds gathered outside the studio, and later worked from the "Shell Weather Tower," an elaborate set with weather maps, dials and gauges, as well as from more conventional settings. Through it all he has been a reassuring presence that viewers loved and trusted. He retired in 1996.
"We learned as we went along," he said in a 2012 interview. "We didn't have any idea where this business was going; it just developed all by itself."
Like most TV pioneers, Kraehling was a radio guy who made the transition to TV as radio companies tried out the new medium.
At WCCO, he was paired with another legend — Dave Moore.
He got his start on the little screen, though, when he was asked to fill in for somebody else. "I didn't know anything about the weather," he said, adding that he ended up doing the world's longest Taystee Bread commercial. "But the sponsor loved it and I got to stay on."
MPR's Paul Huttner is one of the many weather people who ended up in the business, partly because of Kraehling. Keep an eye on the Updraft blog today for his likely remembrance.
(Update: Here you go)

He's not the only one inspired by the May 1965 tornado and Kraehling's presence during the storm.
In his Minnesota Weatherwatch book, WCCO Radio meteorologist Mike Lynch recalled it was the first time sirens were used to warn of severe weather.
Uncle Bud came on the screen and behind him was a sign that read "WCCO Channel 4 Tornado Warning." I will never forget the somber tone in his voice when he said, "There are now reports of a tornado funnel cloud over Southdale Shopping Center in Edina." That was less than two miles west of our house!

My mom and dad ordered all us kids and our dog, Dolly, into the basement, but before we did, we couldn't help but run into our front yard and look in the direction of Southdale, to see if we could spot a tornado. We couldn't, but nonetheless we took the warning seriously, at least for the most part.
About 10 years later, Lynch had his college degree and he began working with Kraehling.
"What a truly nice man!" he wrote.
Related: Interview with Bud Kraehling (TC Media Now)