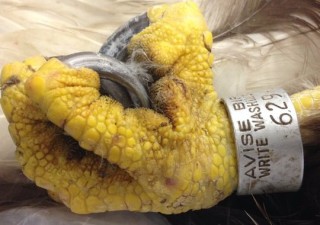 If you're the dean of American bald eagles, your life should conclude more gloriously than by getting hit by a car in the middle of nowhere while you're dining on a freshly-killed rabbit.
A name wouldn't be a bad idea either. But that's the fate that struck 0629-03142, officials have determined. He was the oldest living bald eagle — 38 years old — when he died in upstate New York a week and a half ago, struck by a car in Henrietta, N.Y.
He was one of us — a Minnesotan who, like a lot of Minnesotans, moved away at a young age after an initial upbringing in northern Minnesota in the mid-'70s.
"We hired a tree climber, who climbed up white pines, 80 to 90 feet, to eagle's nests, put a chick in cloth bag and lowered it by rope to the ground," Carrol Henderson, former head of the Minnesota Department of Natural Resources nongame wildlife program, tells the Star Tribune. "We always took just one chick from a nest, and left a healthy chick."
There weren't many eagles around when 0629-03142 was caught at Puposky Lake (north of Bemidji, Minn.), banded, and then sent to upstate New York to repopulate that area, according to Newsday.
DEC officials touted the bird's longevity as a sign of the state's success in bringing back the species. The bald eagle population nationwide had been decimated decades ago by the DDT chemical pesticide, and following federal bans on DDT in 1972 and on killing and taking bald eagles in 1973, New York started a Bald Eagle Restoration Project in 1976.

The state is now home to 350 pairs of nesting bald eagles, according to the DEC.
There were no male eagles in New York state when 0629-03142 arrived.
"When we banded 03142 on August 5, 1977 and had no idea how very special and significant this young bald eagle would become to our nascent bald eagle restoration program," Peter Nye, retired DEC Wildlife Biologist, who spearheaded New York's Bald Eagle Restoration Program, said in a release announcing his death. "Based on his recent recovery near this site, we have to assume he has been the resident male, breeding here for the past 34 years. That's quite a stretch, and likely a record in itself. His longevity, 38 years, although ingloriously cut short by a motor vehicle, is also a National record for known life-span of a wild bald eagle."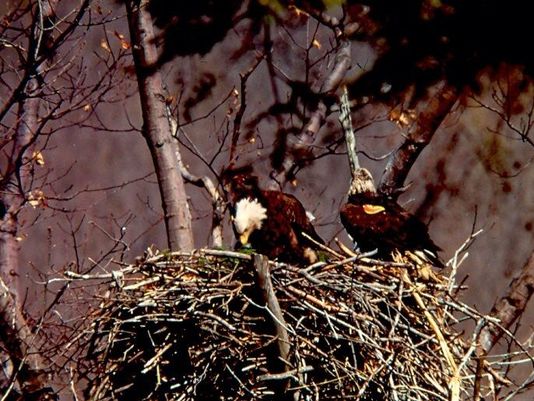 By federal law, 0629-03142 will be sent to the National Eagle Repository in Colorado, where its feathers will be plucked to be used by Native Americans and Alaskan Indians for religious and cultural purposes.