It's been a while since we had an old-fashioned brouhaha over art, but today the Milwaukee Art Museum is accommodating the ongoing debate over what is art, and what is vile trash.
It's all about this: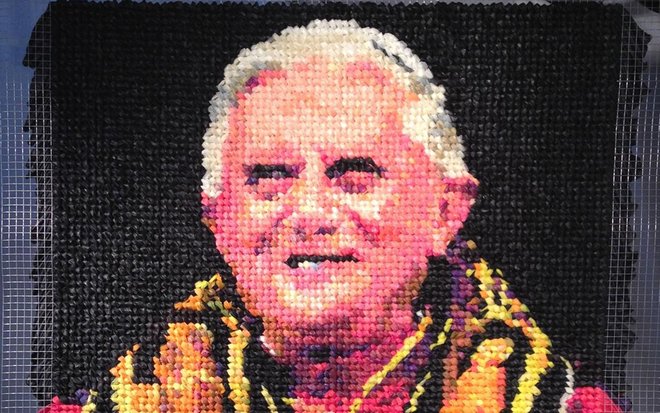 Artist Niki Johnson created "Eggs Benedict," in which she used 17,000 condoms to fashion a portrait of Pope Benedict XVI.
"This was never intended to be derisive, mocking or disrespectful of the pope," museum board of trustees president Don Layden tells the Milwaukee Journal Sentinel. "It was to have a conversation about AIDS and AIDS education. And my hope is when the piece appears in the museum that will be the focus of the discussion."
That's a hard one to believe, says Jerry Topczewski, chief of staff for Milwaukee Archbishop Jerome Listecki.
"What's at play here is either an intentional attack on a faith tradition and its teachings or a publicity stunt for the artist," he said. "And we would be opposed to any faith tradition or religious leader being attacked in such a way."
The museum bought the piece from gay rights activist Joseph Pabst for $25,000. It will display the portrait this fall.
The museum acknowledges complaints, including canceled memberships, from about 200 people so far, according to the newspaper.
"It seems like in the world of art, the last bastion of acceptable prejudice is Catholic Christians," said Kathleen Arenz of River Hills, a longtime docent who expressed her disappointment to the museum.

"I'm not a Luddite. I understand that art can be controversial and political," said Arenz. "As a docent, I feel I'm in an impossible situation. The work is very offensive to me personally. How am I going to justify its artistic integrity and the motives of the curators who acquired it to the people on my tours?"

Another longtime docent severed her ties with the museum over the gift. She declined to be interviewed. At least one donor notified the museum that his company's foundation would no longer contribute. He did not return a telephone call seeking comment.
The director of the museum is unrepentant.
"Museums do not make decisions about programming based on donors and donations," Dan Keegan said.
"If museums made their decisions on donor reaction or negative responses to programming, we as a nation and a free society would be far poorer than the loss of a future donation," he said.