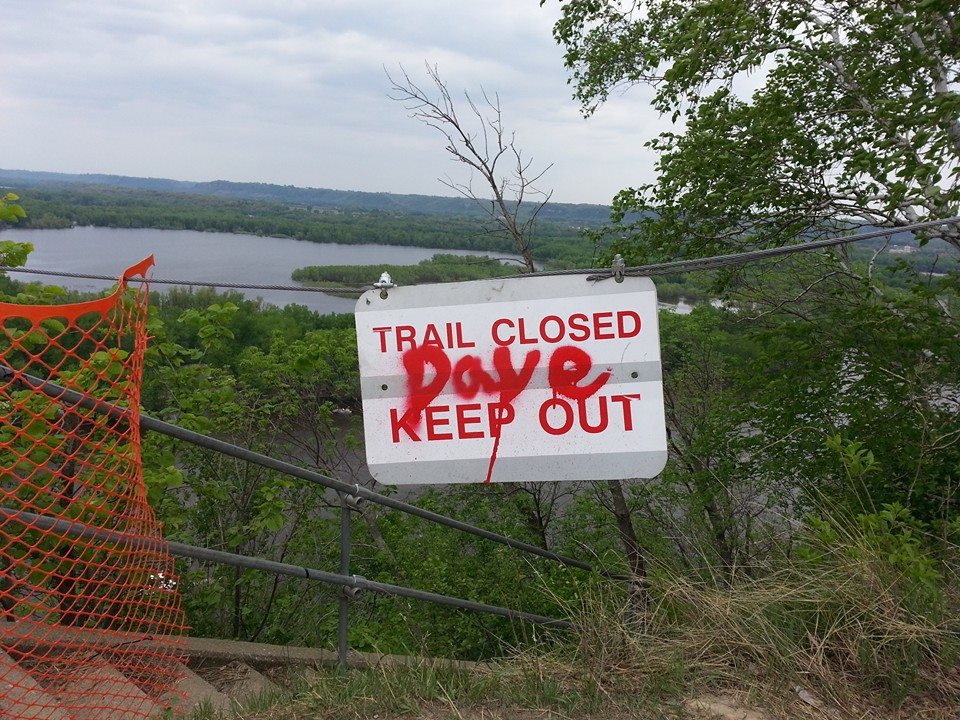 For two months — since an elderly man fell to his death — Red Wing, Minn., officials have been studying a way to get people to stay off the north trail on the city's Barn Bluff.
But it appears to be running into reality. Put up a sign that says people can't go somewhere, and they'll try to go there.
Last night, the Red Wing City Council considered various plans to keep people off the trail, but took no action. It appears, however, to be zeroing in on a $100,000 plan, the Rochester Post-Bulletin reports.
Three people have died on the trail since 2011.
Red Wing has purchased $340 worth of new signs and is renaming the north trail to quarry trail, leading to a rock climbing venue instead of the vista atop the bluff, which can still be accessed by the less-harrowing south trail.
Some of the signs will also say "stay on the trail" and "danger of falling," which — if history is any guide — will make no difference, humans being what they are and all.
A little more punishment for violators may also be in the works, the Post-Bulletin reports, although once you're dead, it's difficult to make more of an example of you.
The city may also hire park rangers to keep people where they know they're supposed to stay.
Related: Take a hike and do your heart — and spirit — good. (NPR)