Not to worry, Confederate flag fans. There are still plenty of ways to honor racism and segregation and all that "history" and "heritage."
It's Nathan Bedford Forrest Day in Tennessee today, a day that honors a founder of the Ku Klux Klan.
The governor, Bill Haslam, says he had no choice but to sign the proclamation again this year; it's the law.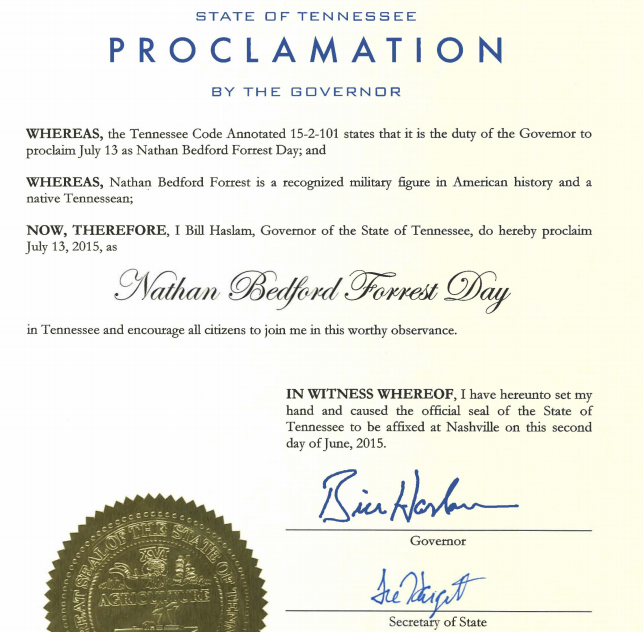 He noted — appropriately — that Forrest was a military hero in the Volunteer state. He left out — inappropriately — that he was a racist.
The Nashville Tennessean says a bust of Forrest might be removed at the State Capitol, but it'll take legislation to undo the annual observance.
House Majority Leader Gerald McCormick serves on the commission and recently wrote a letter to fellow commission members asking them to support moving the bust.

"Nathan Bedford Forrest's military prowess and exploits in the Civil War have been well-documented. However, his background as a slave trader and a founding member of the Ku Klux Klan overshadows his contribution to our state's history in the minds of many," McCormick wrote.

Supporters of Forrest are quick to note he didn't found the Klan and eventually disavowed the organization. He was one of its early leaders, though, and that involvement continues to drive calls for the removal of the bust and other monuments to Forrest around the state.
Supporters showed up in Memphis yesterday at a ceremony to remember Forrest.
Nathan Bedford Forrest supporters showed up by the hundreds with flags in Memphis pic.twitter.com/zVeoffVs1A

— Michael Quander WREG (@MikeQReports) July 12, 2015
Memphis is considering getting rid of a statue and the grave of the state's hero.