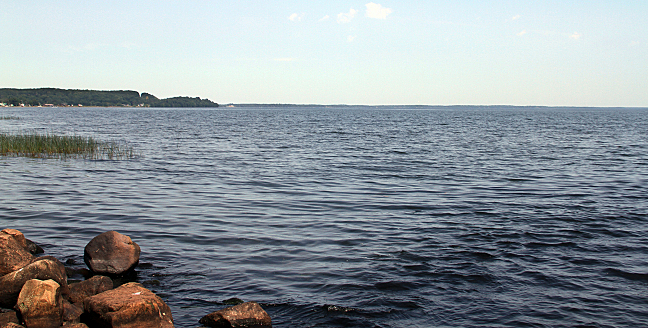 What responsibility do you have to help a business?
Typically around these parts, that's a discussion that focuses on publicly financed stadiums for fat cat owners who know how to shake down politicians. Sometimes, it happens after a natural disaster (although public funds usually are limited to public infrastructure).
What if there aren't enough fish?
On Tuesday, as MPR's Riham Feshir reported, the Dayton administration floated the idea of a special session of the Legislature to help resort owners around Lake Mille Lacs.
It seems to be a bipartisan issue.
"The threat of a shorter walleye season on Mille Lacs is very concerning," House Speaker Kurt Daudt, a Republican, said. "I suggested to the governor earlier today that we put together a working group of commissioners, committee chairs and policy experts to meet in the next few days. Together we will examine the problem and determine the best solution."
The problem is the DNR has set a limit on the number of walleye that can be taken from the lake, and fisherpeople are taking them.
According to Dayton spokeswoman Linden Zakula, the relief could include zero interest loans, property tax abatements and extra tourism promotion and advertising for the region.
A commenter on the Star Tribune site — yes, I know, but hear me out on this — makes a good point. The DNR is managing the lake as an ecosystem, but it's not anymore. It's a tourist attraction that supports business.
The proposed action comes after a meeting last week in which resorters said what's happening around the lake qualifies as a disaster, according to the Mille Lakes County Times.
One person said 50 businesses have probably gone under in the past 10 years and that the state isn't standing up for local people. He said their plight has been ignored by politicians who get paid whether walleye fishing is open or closed and claimed predator fish are the biggest enemy of the walleye.

"It's so obvious to everyone who doesn't have political interest," the man said. "This is physically and emotionally draining."

Another person said the governor should visit Lake Mille Lacs. People said they'd welcome the chance to take the governor out and show him water temperatures, actual floaters, fish sizes and other conditions in real time.

"This is disaster aid," one man said, "tell the governor that."
There are several elements to the story worthy of discussion: Can the future of the lake and the present of the lake co-exist anymore? What other business deserves a state bailout?
And how far "down the line" does the aid go?
"I see it at the bank, and it's not just the lake, it's all the way down the line," Roger Tramm, lifelong resident of Isle and manager of the local branch of the First National Bank of Milaca, said at the meeting, according the the Times. "I see all the people around here struggling."