If it's not whether you win or lose but how you play the game, what's the big deal about kids getting trophies just for playing the game?
Pittsburgh Steelers linebacker James Harrison is renewing the debate after vowing on Saturday to force his 6- and 8-year-old sons to send back trophies they received for participating in school athletics.
He took his outrage to Instagram.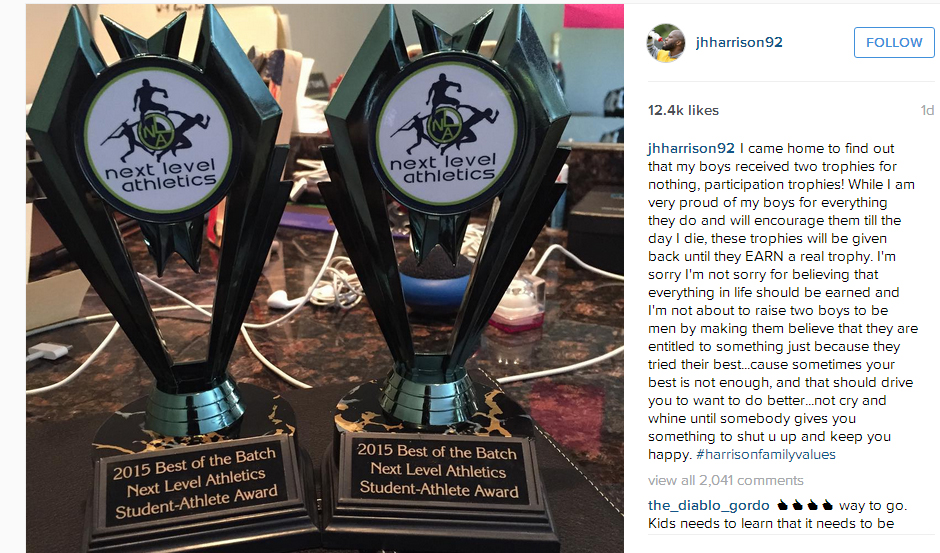 They didn't give Harrison a trophy for grammar and punctuation back in the day, apparently.
I'm not about to raise two boys to be men by making them believe that they are entitled to something just because they tried their best…cause sometimes your best is not enough, and that should drive you to want to do better…not cry and whine until somebody gives you something to shut u up and keep you happy.
This, of course, is all about "Trophy Nation," the belief that America is raising a generation of also-rans by giving them a trophy.
But where's the data that shows that a participation trophy ruins a kid for life?
"Reward them for being terrible and you tell them that being terrible is something that should be rewarded," Jerry Thornton at Boston sports-talker WEEI wrote recently. "It teaches them that there's no need to strive for anything. No reason to push yourself to do better. Zero incentive to do anything but sit there and wait for life to hand you everything you want because it's your birthright. It goes against the laws of nature and every animal instinct."
Where's the evidence that kids don't try to win a game, or play as well as they can, because they're already guaranteed a trophy?
Have any players in professional sports received a participation trophy?
Even decades after participation trophies became a thing, the sports culture still rewards the winners with adoration, attention, and money. If a participation trophy is so ruinous, how does that still happen?
A Pittsburgh sportswriter is aghast today because over the weekend, the Houston Astros honored a team that lost a World Series.
While we're at it, we should tell the Pirates it's not too late to celebrate the 25-year reunion of the 1990 team that almost made the World Series. Is Carmelo Martinez still around to recall how Glenn Braggs robbed him of a home run that would have tied Game 6 of the NLCS?

It would be worth the price of admission just to hear the things fans would say to Sid Bream when he is introduced.

Maybe this is a thing in Houston. That was the only World Series appearance in the 53-year history of the franchise.

Gotta celebrate something, right?
The Cleveland Indians did the same thing a few weeks ago, honoring the 1995 team that tore up the American League, dispatched the Boston Red Sox and Seattle Mariners in the playoffs, and then lost to the Atlanta Braves in the World Series.
But because they didn't win the World Series, nothing else mattered.
Who raised you, sir?
In other news of the competitive spirit, a man kicked himself in the head 134 times to set a new world record.