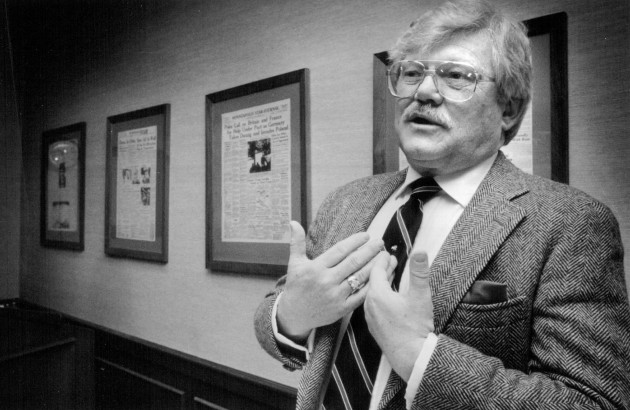 If there can only be one "trial of the century," my MPR News colleague Tim Nelson tells me that T. Eugene Thompson's is the one for the last millennium.
In March 1963, Carol Thompson surprised an intruder in her bedroom in St. Paul's Highland neighborhood. He knocked her out and tried to drown her in the bathtub, the Star Tribune said in a 50-year anniversary story of the crime.
Her husband had hired "henchmen" to kill his wife.
… when she came to and escaped, his pistol wouldn't fire, so he beat her with the gun's butt. He then stabbed her in the neck.

Thinking she was dead, he went to wash up — only to find she had fled out the door to a neighbor's house. "I never saw anyone who wanted to live so hard in all my life," he was later quoted as saying.

But she died four hours later at Ancker Hospital in St. Paul. Her husband sobbed when he got the news.
This, the experts at the time said, was the moment that St. Paul lost its innocence.
The case had the three essential components of a classic murder case: blood, money, and sex, said William Swanson, who wrote "Dial M: The Murder of Carol Thompson."
At least a dozen people told me they hadn't been allowed to play outside for weeks after the murder, so great was the fear of a homicidal maniac roaming the streets.

One woman said that after March 6, 1963, her mother forbade leaving cutlery on the kitchen counter, convinced that Carol's murder had been facilitated by a knife left thoughtlessly (or not!) in plain sight in her kitchen. (In fact, Carol's killer had rummaged through a drawer for the knife he used.)

And, if we can credit the anecdotal testimony, the habit of locking doors at night dates locally from that snowy March morning.
Some suspect the movie "Fargo" was at least loosely based on the murder, although the Coen Brothers have never confirmed it.
The trial would've gone national, but for the fact that in the middle of it, Lee Harvey Oswald killed President John F. Kennedy.
After deliberating for 12 hours, the jury found T. Eugene guilty of first-degree murder and he was given a life sentence. He served about 19 years and was then was paroled.
By the time the Strib ran its 50th anniversary story, all the participants but Thompson were gone, it said.
Now he's gone, too.
The family has announced that Thompson died last month.
How do you write an obituary for someone like Thompson? By keeping it short, and not mentioning what he was best known for.
Thompson, Tilmer "T" Eugene died on his 88th birthday, August 7, 2015, peacefully at his home in Roseville. He is survived by two sisters, four children, six grandchildren, and seven great-grand children.

A private memorial service and mass was attended by friends and family at the Cremation Society of Minnesota in Edina on August 29, 2015. As a young man, then known as "Cotton" Thompson, he served in the U.S. Navy on a minesweeper in the Pacific Theater of Operations during World War II.

After the war ended, he graduated from St. Paul College of Law. He loved engaging in thought provoking discussions. T. Eugene was a multi-faceted person. Oscar Wilde said, "Every saint has a past and every sinner has a future." Amen.
(h/t: Tim Nelson)