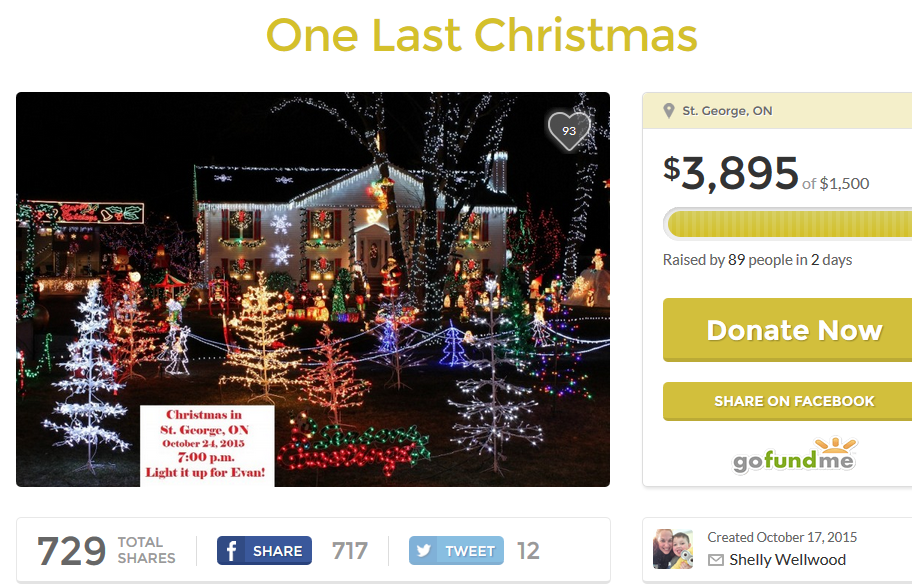 Evan Leversage, a 7-year-old boy with brain cancer, isn't expected to live until Christmas. So the people of St. George, Ontario are messing with the calendar to bring in the holiday season early, writes Colby Itkowitz in the Washington Post.
Main street is lit up with decorations.  Bulbs hang from the trees.  Santa and his elves are out and about. Excerpt:
Evan Leversage is terminally ill with brain cancer he's battled almost his entire life. He's been through chemotherapy and radiation. He's lost vision in one eye. His family learned recently that his condition was worsening and there was nothing more the doctors could do.

So his cousin, Shelly Wellwood, began circulating a small poster around town asking if people would consider putting their holiday decorations up early so Evan could experience one last real Christmas.
The idea took off on Facebook, as these things do, and a Go Fund Me page has brought in almost $4,000.  Now the town is going all out for Evan.  On Saturday, St. George has planned a grand parade to march through the boy's neighborhood — with 25 floats, dancers, and cement and dump trucks.
St. George's nickname, by the way:  "The Friendly Village."