Eireann Dolan, the girlfriend of Oakland A's pitcher Sean Doolittle, announced on her blog last week that she and her beau intended to host Syrians for Thanksgiving, given they'd fled their homeland in search of a better life.
The state I'm originally from (Illinois), the state my boyfriend Sean is originally from (New Jersey), and the state in which we both currently live (Arizona). All three states joined so many others in saying they would turn away these refugees because they are afraid some of them might be ISIS sympathizers.
When her grandfather brought his family to the United States, they settled in Chicago and were met with scorn and disdain.
When they came to this country, it would have been very easy for them to be mistaken for those who would wish to commit terrorist activities when all they really wanted to do was to give their children a better life free from war and poverty.
Despite the way they were treated, her family stayed in Chicago.
You would have to be head over heels in love with a country to counteract the fact that some of its people actively discriminated against you.
Her grandfather died recently and yesterday was the first Thanksgiving without him. So they invited other refugees to join them for dinner.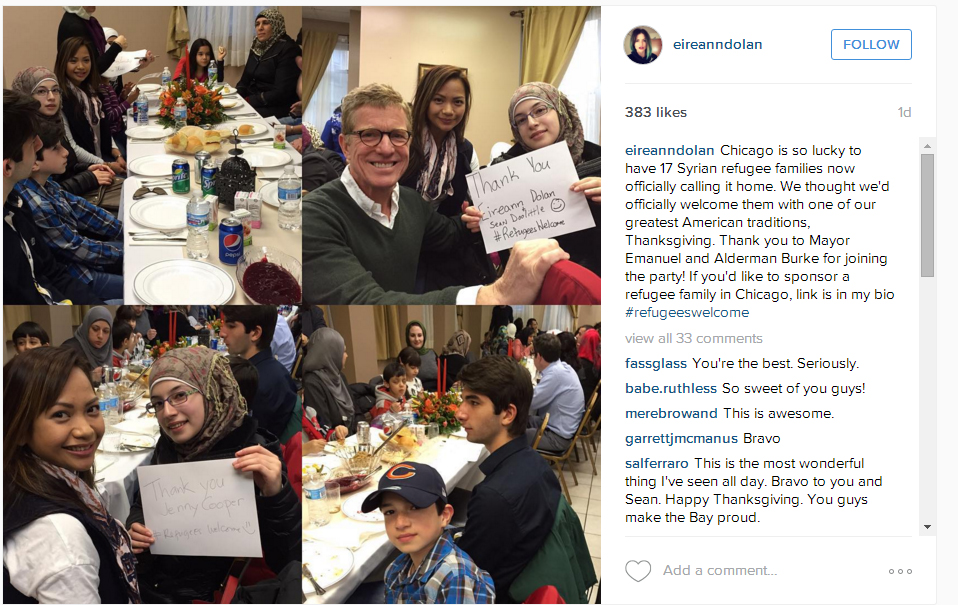 Changing hearts and minds is not something that can be done from the "top down" – that is, you can't expect politicians or laws or military actions to change the way people view one another and how they act toward each other as a result.

Hearts and minds are changed through small actions that we all have the ability to take every single day.

We see on the news that we should fear these refugees, half of whom are children. That there's a chance they could "radicalize" once they get here. I in no way want to even lend credence to this fear, but wouldn't you say that the single best way to prevent radicalization is through one-on-one ambassadorship?

Like it or not, you are an ambassador for this country. Everything you do has the propensity to be perceived as our culture to those who are new here. Don't waste your ambassadorship. Our culture is our greatest asset.
We are grateful to our great city #Chicago for welcoming #SyrianRefugees pic.twitter.com/trWRH0gqAY

— SyrianCommNetwork (@SCN_Network) November 26, 2015
.@MayorEmanuel, Ald Ed Burke, Danny Solis, Harry Osterman, Carlos Rameriz-Rosa #ThankU #refugeeswelcome #Chicago pic.twitter.com/jpCDplS2fp

— SyrianCommNetwork (@SCN_Network) November 26, 2015
Related: Aunt of drowned Syrian boy hopes her family will be in Canada by Christmas (NY Daily News)