Back in my day, this is what a decent yearbook photo looked like.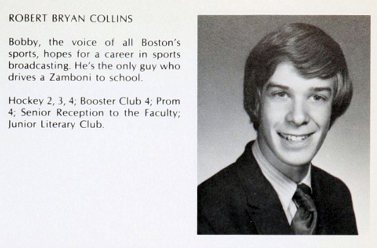 We all went to the same photographer, we all had the same pose, we all faked the academic achievements. Color? Bah! What did we care about color; we were all going to end up in Vietnam anyway.
It was a simpler time — except for the war, choking smog from the mills, a river that ran red with the dye from the paper company, the lack of seat belts in cars, and the constant threat of a nuclear bomb and all. Yearbook photos? Who had time to care about such trivia?
They sure care about yearbook photos out in the Red River Valley where, not having to spend any time worrying about a nuke dropping any minute, they can concentrate on whether the school must constitutionally accept a yearbook feature no matter how silly it's going to look at the 40th reunion.
Like this one, for example.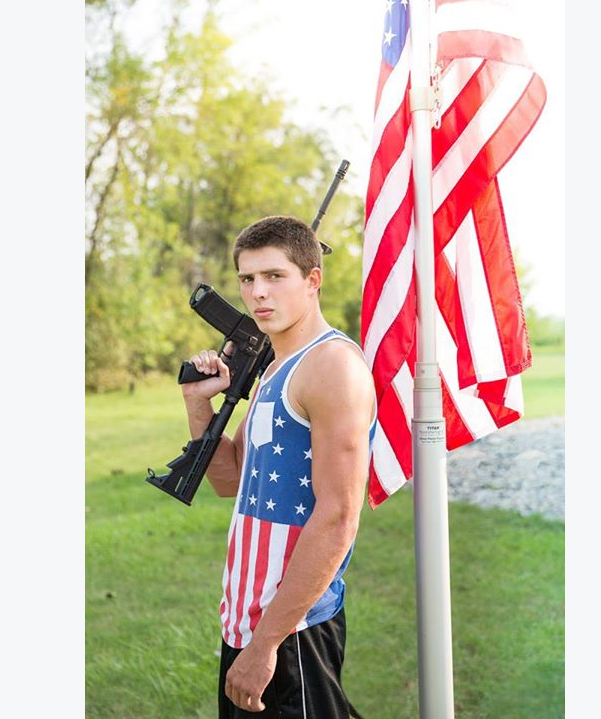 Back in my day, a parent would pull the kid aside and say, "son, you've got a stupid-looking picture here."
Instead, the parent is calling for the principal's head at Fargo North because — and you'll want to sit down for this — the principal said, basically, "son, you've got a stupid-looking picture here."
Of course, Andy Dahlen couched it all in principal-speak, Mike McFeeley at Forum Communications writes today. But we know what it means.
In an interview Wednesday morning, Dahlen cited three school policies as reasons for rejecting the photo. One bans the carrying of weapons on school property; another prohibits publishing of materials in school-sponsored media "that violates federal or state law, promotes violence, terrorism, or other illegal activity …"; and a third that bans clothing that advertises or promotes weapons.

While acknowledging none of the policies specifically prohibits photos of weapons from appearing in the yearbook, Dahlen said "it's the combination of those three policies that we've interpreted prevent it."

"You can play devil's advocate all you want, but if you can't have it in school, why would we publish it in our media?" Dahlen said.
The young man's father has turned to Facebook for support and — you'll want to sit down for this, too — he's finding plenty of it.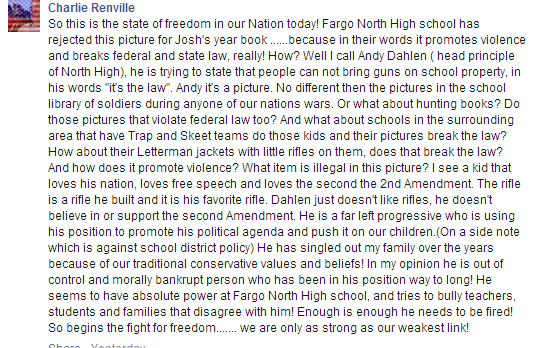 The parent will meet with the Fargo Public Schools administrator tomorrow, according to McFeeley.