It's probably never a good idea to use the New York Daily News as a barometer of the state of journalism.
Nonetheless, today's front page reaction to Ted Cruz criticizing "New York values" at last night's Republican presidential debate stoops to a low not seen since last night's Republican presidential debate.
"Everybody understands that the values in New York City are socially liberal and pro-abortion and pro-gay marriage," Cruz said, before Donald Trump took him apart. "And focus on money and the media."
Caution: Obscene gesture ahead.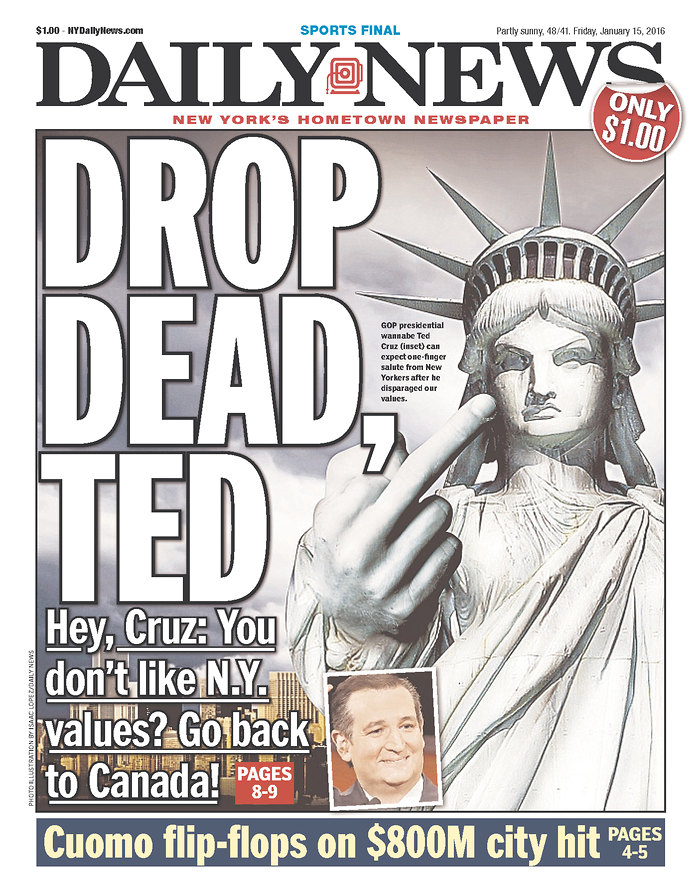 Daily News columnist Mike Lupica rose to his city's defense today.
Here is what New York values are: New York values are a young guy, a paralegal, literally giving somebody he doesn't know the shirt off his back on a subway because winter has finally come to the city and brought freezing temperatures with it. New York values are the New York taxi driver who traveled three boroughs across four days to find the guy who had left $1,400 in his cab, so he could return the money to him. You know what that really was? It was the real life of a city that Ted Cruz knows nothing about. He is simply another tourist here, one constantly on the make.

The best of this city is the best of this country, and always has been. When it was hit in a way that no American city had ever been hit, it came together and rose up together in a moment as thrilling as any America had ever seen.

This wasn't the civil rights movement, it was a different kind of movement, to lower Manhattan. That was where the city was stronger and better than it ever had been on Sept. 12, when in the words of the great Pete Hamill, the city first got to one knee, and then began to get up. We will never know how it would have gone in another American city. We just know how it went here.

New York values? New York values are the ironworkers who carried their tools in backpacks and gym bags and, by God, walked over the Brooklyn Bridge on the night of Sept. 11, 2001, or all the way downtown from all the way uptown.

One of them I know simply said to a cop who didn't want to let him get close to where the towers had been. And the guy said, "They need me. I cut steel."
In its editorial, the rival New York Post noted a secret loan from Goldman Sachs that propelled Cruz to the U.S. Senate came from New York.
That line aimed to get Iowa voters to contrast him with Donald Trump and Hillary Clinton. But it rings pretty odd once you know of his history with at least two big New York banks.

And the way he kept it quiet — while retailing a markedly different, cornpone story — isn't so very tell-it-like-it-is.
Related: The detente between Trump and Cruz is definitely over (Washington Post)