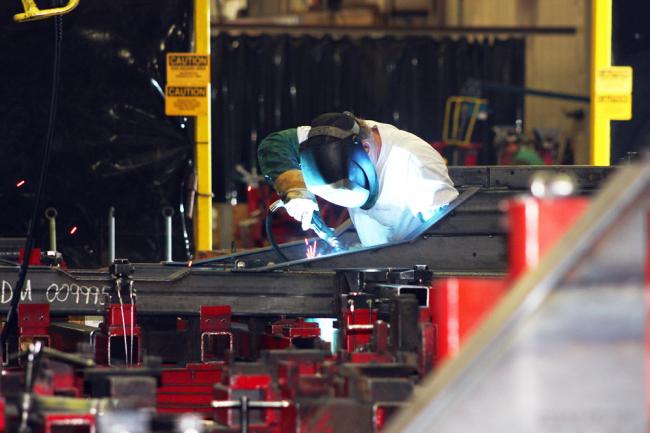 When Vice President Joe Biden arrived in St. Cloud in March 2009 touting the job benefits of the $787 billion American Recovery and Reinvestment Act, it felt like the start of something.
St. Cloud's New Flyer bus company plant was hiring, and Biden suggested the billions in federal fiscal stimulus would drive city and state governments to expand their transit fleets, paying off for New Flyer and other firms. The momentum ground to a halt a couple months later when an unidentified major U.S. city indefinitely postponed a planned New Flyer bus buy.
It was a swift, local lesson in expectations for the giant stimulus package: Curb your enthusiasm.
Biden returns to Minnesota today and it's telling that this time he's focused on the improvements made to St. Paul's Union Depot. Financed with stimulus money, the rehabilitation has helped restore the grand building's beauty, but that's about it.
Minnesota received more than $5.9 billion from the stimulus package, according to Minnesota Management and Budget. But it will be a stretch for Biden to talk about how it ignited the economy or long term job growth.
There's no doubt it did something. How could it not? But if you bought into the idea seven years ago that the stimulus was going to permanently add manufacturing and construction jobs — or even stem the losses — you'd have been mistaken.
Here a couple of Minnesota charts.
In this one, you can see some stimulus money at work (stimulus act passed in February 2009). Remember the expression "shovel ready projects"?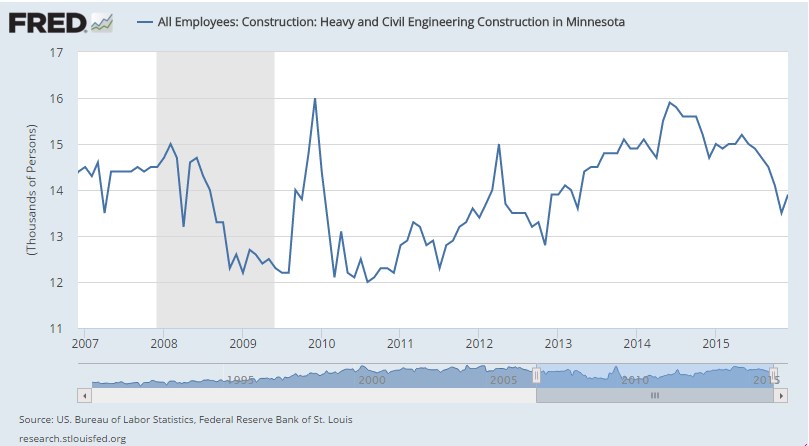 This is the place where many expected a big boost. It did add a few thousand workers for stretch, though at the end of 2015, employment in heavy and civil construction was back below pre-recession levels.
Biden's St. Cloud visit also made it seem like manufacturing would come roaring out of the recession, but it didn't. Durable goods manufacturing in Minnesota was already in decline when the recession hit.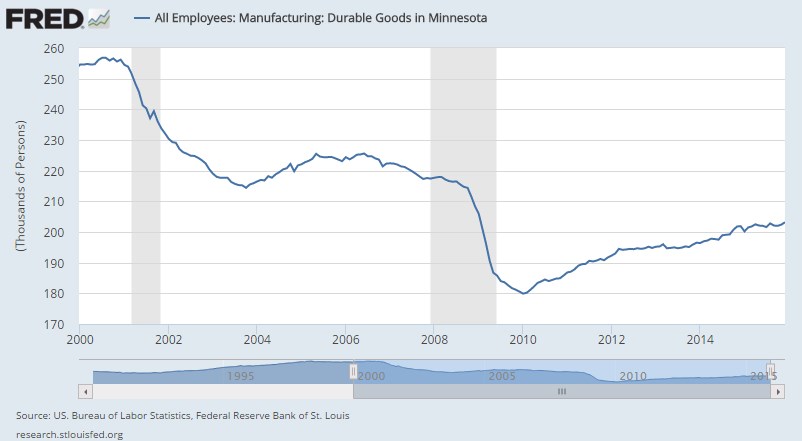 In the relatively mild recession of 2001, durable manufacturing lost about 37,000 jobs before starting to recover. That's about what happened during the Great Recession, despite the stimulus. In both downturns, manufacturing did not recover its pre-recession job numbers.
So what did the stimulus money buy us? It helped create some short term jobs and patch up the state's budget.
The Federal Reserve Bank of Minneapolis has noted that the federal stimulus package did "reduce the brunt of the recession on state and local government budgets." The Minnesota Management and Budget office estimated about $2.6 billion in federal stimulus funding helped buoy the state budget.
The $243 million Union Depot project Biden will laud today received $35 million in federal stimulus aid. But the overhaul and the resurgence of the Lowertown neighborhood around it hasn't done much to stimulate activity inside. The depot's struggles to attract retailers continue. And it remains a depot for a train that stops in St. Paul twice a day.
The Biden event today will no doubt applaud the tangible beauty of the Union Depot restoration, but like the stimulus package itself, it's still hard to see the long-term payoff.