The role of statistics in baseball — known as SABRmetrics — has been growing since a security guard in Kansas City started dabling in numbers in the '70s. From that beginning, Bill James changed the game of baseball more than anyone since Abner Doubleday.
The reliance on numbers is about to take a giant step forward with the announcement from Major League Baseball today that it will allow iPads and smartphones in the dugout.
The change could take what's left of the managerial "gut feel" for the game out of the game.
According to the Wall St. Journal:
Teams will be able sift through performance stats from current and past seasons, weigh potential pitcher-hitter matchups, look at "spray charts" showing where a player is likely to hit a ball, even cue up videos of plays from previous games.
"Our collaboration with Apple on the use of iPad Pro in dugouts and bullpens is part of our ongoing effort to introduce extraordinary technology into our game," MLB commissioner Rob Manfred said in a statement.
"I started in this game 25 years ago and the single biggest change has been the emergence and predominance of analytics," Manfred told CBS This Morning today. "It affects the way we judge players, make decisions on the field and the way fans consume the game."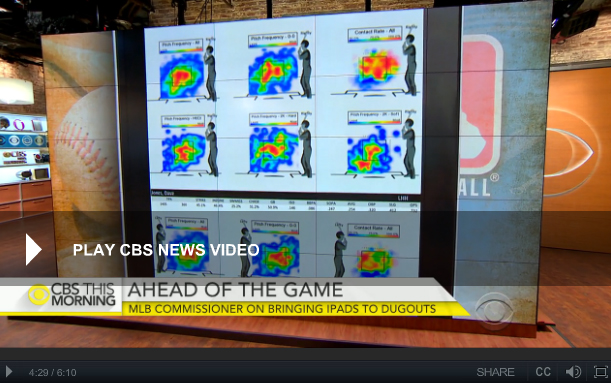 It should also change the postgame interview.
"Why'd you leave Nolasco in to give up that homer," a local ink-stained wretch might ask.
"The analytics confirmed it was the best move," the beleaguered manager will respond.
And who can argue with the numbers?
The next step? Maury Brown, who writes about the business of baseball for Forbes, says giving fans the same information could lead to better second-guessing of old-school managers who don't do what a computer is telling them to do.
The logical question is, if MLBAM has created a custom app for managers and coaches, could a consumer product based around "MLB Dugout" be far behind? After all, Bloomberg and MLB.com partnered in 2010 to try and bring advanced analytics and Bloomberg's UI expertise together for fantasy baseball, so the idea of a consumer app by MLBAM is not a reach given the new partnership.

Maybe the biggest question will be how baseball purists see technology creeping into the dugouts. Former MLB players such as Goose Gossage has bemoaned how "nerds" are ruining baseball. Now, managers and coaches will be part of moving out of the dark and into the technology age in a place many never thought they would see it. What would Alexander Cartwright think?