The Jolly Green Giant is now officially dead after a good run in the Minnesota River Valley.
The long-closed factory in Le Sueur, one-time home of the baby peas, was demolished yesterday, the Mankato Free Press reports.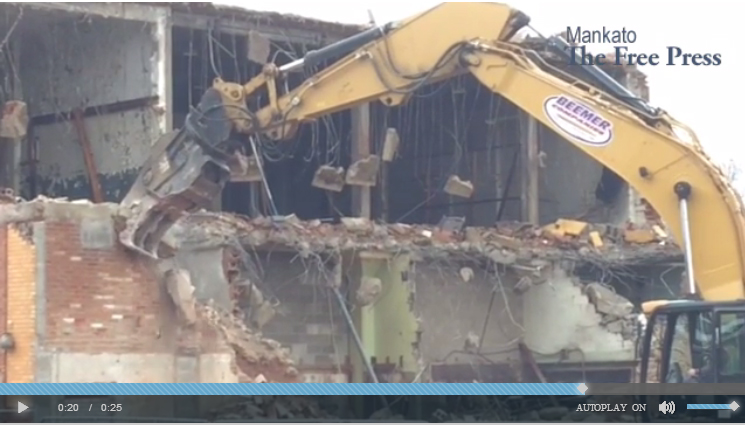 "Green Giant was a pretty big thing in Le Sueur," said Don Olson, who watched backhoes ripping down the long-shuttered brick factory. "When Green Giant left, Le Sueur was getting to be a bedroom community. The downtown is gone … ."
The end of the valley of the Green Giant is familiar to cities and towns all over America.
A local business gets swallowed up by a bigger one, then a bigger one, and then a bigger one. Promises were made, then broken in a hurry.
The headquarters was moved to Minneapolis after the company was sold to Pillsbury in 1979, then was absorbed by British company Grand Metropolitan when it gobbled up Pillsbury a decade later. General Mills purchased Pillsbury from Grand Metropolitan in 2001 before selling the Green Giant brand to New Jersey-based B & G Foods, Inc. last summer.

The onset of the major changes, though, came even before the corporate purchases and mergers. Green Giant, which began in 1903 as the Minnesota Valley Canning Co., was led for its first 72 years by three generations of the Cosgrove family. Then an ambitious executive was brought in from the outside to replace Robert C. Cosgrove in 1975. Thomas Wyman, who had worked at Nestle and Polaroid, became the Green Giant CEO and promised the community that "Le Sueur will remain the valley of the Green Giant," according to a story in the Le Sueur News-Herald.
The Le Sueur High School sports teams are still the Giants, the town's annual summer festival remains "The Giant Celebration," but fewer than 10 people still remain with the company in the city.