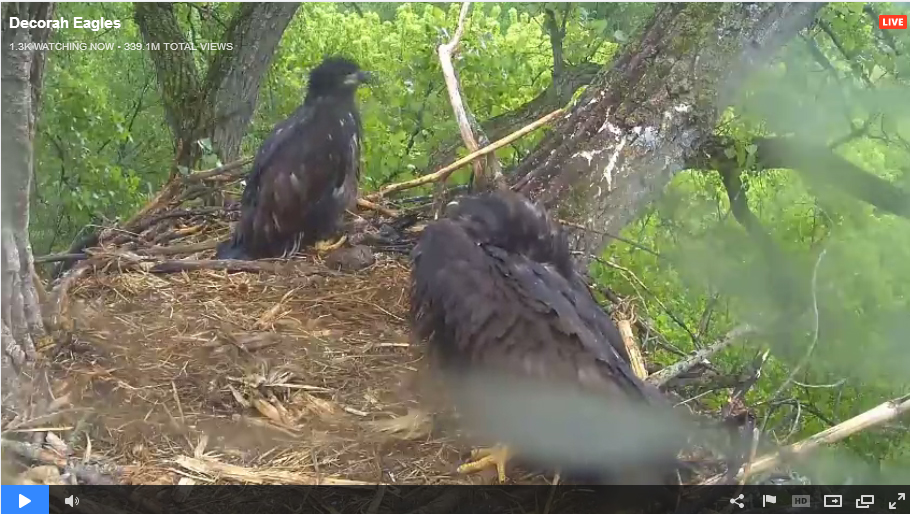 It's been a pretty rough spring for the most famous eagles in America. The Decorah, Iowa webcam this spring has documented nature's dirty little secret: there's a lot of dying going on.
The webcam in Decorah is the most widely viewed eagle cam in the country. But the nest blew down in a storm, leaving viewers with nothing much to watch but tree branches.
So it shifted to a "backup nest", and it wasn't pretty.
An eaglet died on Wednesday of causes unknown, the Des Moines Register reports today. It's the second eaglet to go toes up.
The eaglet stopped breathing and died late in the afternoon. It could have eaten some contaminated food or poison, but Raptor Resource Center Executive Director John Howe said he is only speculating. Howe is consulting with the U.S. Fish and Wildlife Service and is still determining if the eaglet can be retrieved from the nest and testing done.

The eaglet's mother also appeared ill, displaying signs of distress and panting but made a recovery overnight and has been flying over the nest.

"It may be related to what happened with the eaglet," Howe said. "We probably will never know until we get that second body but it's unlikely. Real life is not like Quincy."
An eagle cam official decided to shut down the webcam feed because he didn't think viewers should be subjected to suffering.
It probably also spared operators from a barrage of complaints. In other instances of nature cameras, many viewers object when nature acts like nature.
Related: National Eagle Center's iconic 'ambassador' Harriet dies (MPR News)