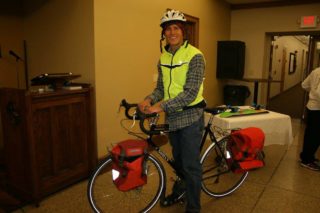 Fargo North High School won't give a break to a teacher who's planning on pedaling across the United States to raise money for a good cause.
Paul Shol, a 29-year-old Fergus Falls, Minn., native, is planning an Oregon-to-Maine trip to raise money for Legacy Children's Foundation, a Fargo organization that focuses on closing the achievement gap for low-income students. It was started by a middle-school teacher in the city.
That seems like something a school district could get behind, but Shol says his isn't, according to the Fargo Forum.
Shol said he told his administration there was a good chance he'll be back within the first three to four days of school starting. He asked for a two-week security buffer that would require a leave of absence, but he said he was denied.

"So I was disappointed," said Shol, 29 years old. "I guess they have their reasons and opinions, but I disagree. I think they should accept that request."

Shol said he put in his request to the North principal, the human resources office and the district office.

"They all said no," he said. "They have their reasons, I just don't agree with them. I'm over it now. I do feel like this is what I'm supposed to be doing."
His goal was to raise $25,000 for the organization; he's well over that already.
He has a secondary mission for his ride: He plans to speak about his religion at stops on his trip.
"I really feel called to do this trip," he told Fargo Monthly Magazine. "This is a God call. He's giving me an opportunity to make a big difference. He's given me the ability to do it, the time to do it, the passion to do it."