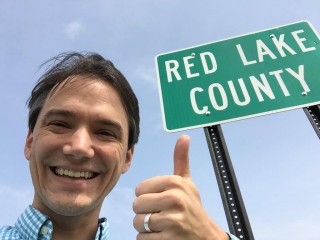 Christopher Ingraham, the Washington Post data journalist who started a riotous response to declaring Red Lake County the worst place to live in America (he'd never seen it), was charmed by the seductive ways of northwest Minnesota, and decided to chuck the East Coast life for the good life in Minnesota, likes it here, the Grand Forks Herald says today.
.@gfherald interviewed me about the move to Minnesota but my dog did most of the talking. https://t.co/rWhWjBU9uv pic.twitter.com/kA5OJzdvkI

— Christopher Ingraham (@_cingraham) July 1, 2016
We're not entirely sure now, however, whether he's in a position to offend the people back East.
Do people really care about each other more in Minnesota than people in communities (real communities, not the fake suburban and urban ones) elsewhere?
Ingraham seems to think so, recalling what happened to Al Buse, a 101-year-old man who fell.
"People knew right away when something happened to him because everyone was stopping by his house to say hello, checking in on him," Ingraham said, contrasting it with the death of a neighbor back east who died in his home and wasn't found for about two weeks.
"(It's) such a very different contrast in how people look after each other and think about each other," Ingraham told the paper.
But he likes it here. That's all we need to know.
"It doesn't make sense for your workforce to be spending 15 hours a week commuting," Ingraham said. "There has to be a smarter way to do it."

The move also means the Ingrahams have more time to cook at home instead of dining out, and they've started a garden in their backyard. Ingraham is pretty sure he and his dog, a beagle-basset mix named Tiber, have lost weight since moving.

The family went tubing on a recent weekend, and a larger home and yard has given the Ingrahams' rambunctious toddlers freedom to play.

"Although sometimes in the evenings … they're super fussy, so there are evenings when I do kind of miss that hour and a half of quiet time in the train," Ingraham said with a laugh. "But most times, it's been really great."
Last week he wrote a post declaring Minnesota "the absolute best place to grow up in America."
You got a problem with that, Mississippi?