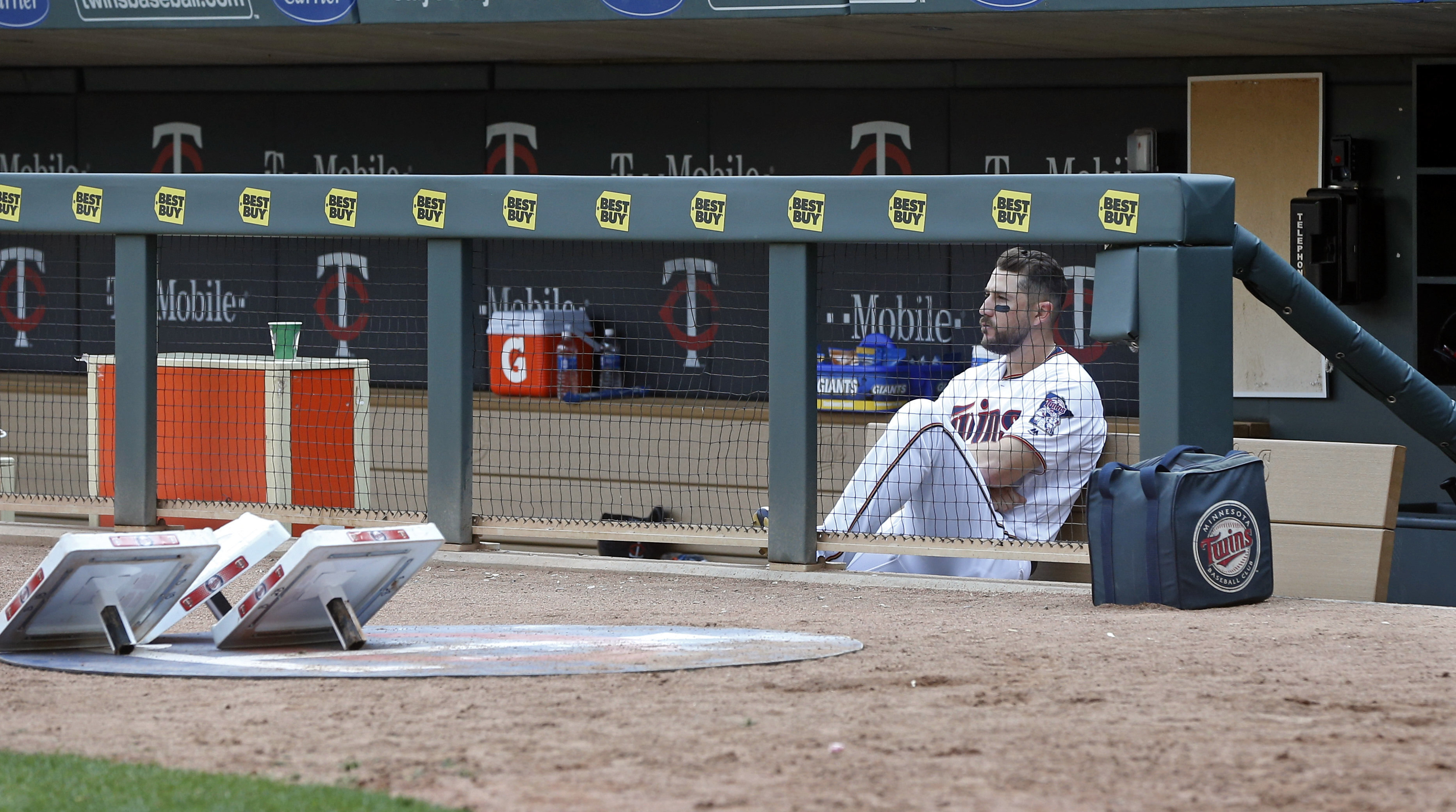 If only Byron Buxton and Miguel Sano had developed the way the Twins had hoped, maybe Terry Ryan would still have a job.
The general manager of the Twins was fired today by the team with the second-worst record in baseball.
A lot of the blame for that has to go to the inability of the team to develop young talent, and hold onto talent it shouldn't have.
A look at Ryan's trades since returning for his second stint in the job, however, also reveals he never seemed to have a Plan B. There were only three significant free agent signings during his tenure and all three have been failures. Other transactions reveal a bottom-feeding approach to acquiring players with the usual result being bottom-feeding players.
Nothing went right with Ryan's gambits. He signed Byung-ho Park even though there was no place for him to play. He played a position (first) that Joe Mauer plays. Sano could have been the DH, but Park was given the role. Trevor Plouffe was at third, so Ryan hatched a plan to move Sano to rightfield.
It was a train wreck waiting to happen. And it happened. Regularly.
Plouffe is on the disabled list, has virtually no trade value now, and Park is in the minors.
That is to say: None of the failures surrounding the Twins since Ryan's return as general manager is much of a fluke. And none of it is likely to be easily fixed.
Here's some of the highlight transactions since he took over the job from previous GM Bill Smith.
2012
* Drafted Byron Buxton in the 1st round (2nd pick) of the 2012 amateur draft. Buxton, considered a no-brainer pick, is the player everyone was told to wait for. He's been a bust so far, but he's only 22 and one need only look at Jackie Bradley Jr., of the Red Sox to see how patience with disappointing young players can pay off. Still, Buxton's slow development is one of the primary reasons Ryan is out of work.
* Traded Francisco Liriano to the Chicago White Sox. Received Eduardo Escobar and Pedro Hernandez. Liriano finished 9th in Cy Young balloting in 2013. He's been disappointing in Pittsburgh this year, but he's a lefty and lefties are hard to find. Escobar, meanwhile, is a 27-year-old utility player of no distinction with the Twins now. Hernandez posted a 6.83 as a starter in 2013 and then became a free agent.
* Traded Danny Valencia to the Boston Red Sox. Received Jeremias Pineda . Valencia hit 15 HR for the Blue Jays and Oakland last year. Pineda never made it out of AA minor league and now is in the Miami organization.
*Traded Denard Span to the Washington Nationals. Received Alex Meyer. Span was never going to amount to much in Minnesota and he didn't amount to much in Washington either. But Meyer, a first-round draft pick, is one of the players the Twins pointed to and said, "just wait until he's ready (along with Buxton, presumably) around 2015." He's pitched in two games in each of the last two seasons for the Twins, has an ERA in double digits in both, and is injury prone. He's 26 now, an age at which he should have developed by now.
* Signed Mike Pelfrey as a free agent. Another failed first-round pick (Mets), he lost 13 games as a starter in his first year with the Twins. He's with Detroit now. He's terrible for them, too.
2013
*Traded Ben Revere to the Philadelphia Phillies. Received Trevor May and Vance Worley. Twins fans elevated Revere, a fine fielder who can't hit, to a loftier status than he probably deserved, but he's still perched higher than either May or Worley. May, who started 16 games for the Twins last year, is 1-2 with a 5.28 ERA this year. Worley went 1-5 for the Twins before being sold to Pittsburgh. He's 2-0 with a 2.87 ERA, working out of the bullpen.
* Traded Justin Morneau to the Pittsburgh Pirates. Received a player to be named later and Alex Presley. The Pittsburgh Pirates sent Duke Welker (October 5, 2013) to the Minnesota Twins to complete the trade. Morneau, of course, was the victim of a concussion and never again was the player he was in his Twins salad days. He matched his Minnesota 2013 output with 17 for Colorado in 2014. But he played in few games in 2015 and just signed with the White Sox where it appears he's finished. Presley was an undistinguished outfielder who did nothing in Minnesota. Duke Welker, who's done nothing in major league baseball, was traded a month after the Twins got him for Kris Johnson, who did very little for Minnesota before being released.
* Signed Kurt Suzuki as a free agent. With a brain injury sending Joe Mauer to firstbase, Suzuki became the team's starting catcher in 2014. He didn't hit much but was named to the All Star team.
2014
*Traded Miguel Sulbaran (minors) to the New York Yankees. Received Eduardo Nunez. Nunez is now the team's starting shortstop and represented the Twins at the All Star game last week. Sulbaran has been injured all season in the Yankee farm system.
* Traded Kendrys Morales to the Seattle Mariners. Received Stephen Pryor. Morales played about 40 games for the Twins after being out of the game for half the season. The Twins gave up on him because of poor production and traded him to Seattle at the July trade deadline. He hit 22 HRs for the Royals last year and got a World Series ring. He has 15 homeruns for Kansas City this season.
* Signed Ricky Nolasco as a free agent. In an unusual move for the Twins, Minnesota gave Nolasco $12 million to leave the Dodgers and be a starter for the Twins. He had considerable talent — or so we all thought — but has posted ERAs of 5.43, 7.47 and, this year, 5.71. He's 15-21 in that time and will cash a Pohlad paycheck through at least next year. He's often been injured
2015
* Signed Ervin Santana as a free agent. Perhaps believing that the "kids" (Sano and Buxton) were nearly ready to play in the majors, the Twins signed Santana to a $13.5 million free agent contract, giving every indication they were ready to drop big money to field a winning team. But Santana was suspended for half a season for using performance-enhancing drugs and has been unremarkable since, posting an ERA around 4 in the last two seasons. He's one of the few assets the Twins have to trade at the upcoming trading deadline. But he hurt his wrist on a line drive on Friday night which may make some teams reluctant to trade for him. His fat contract through 2019 isn't much of an enticement for them to want to.
2016
* Signed Byung Ho Park as a free agent. It seemed like the sweetest deal ever. The Twins actually outbid other teams — $12 million — just for the right to negotiate with the Korean League standout. A dozen early season homeruns settled fears that he'd be another Tsuyoshi Nishioka, a Japanese League bust at shortstop from several years earlier. But then, 30-year-old outfielder became the second coming of Tsuyoshi Nishioka when the league figured out how to pitch to him. He's in AAA Rochester and the Twins are on the hook for his contract for three more years after this one.
* Traded Aaron Hicks to the New York Yankees. Received John Ryan Murphy. Hicks (a first round draft choice of the Twins) showed a little talent and some fielding brilliance, hit 11 home runs last year and Ryan was smart to get rid of him when he did. He's been a bust for New York, which didn't give up a lot in Murphy who was demoted to AAA Rochester where he had a good stretch in June but has otherwise pretty much proven he has no value. He's a free agent at the end of the season.
There's good news, however, it really can't get any worse.
Related: Souhan: Terry Ryan led a steady decline of the Twins franchise (Star Tribune)