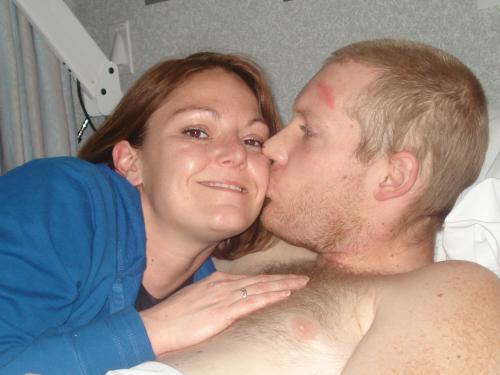 If Thomas Fairbanks hadn't been drinking and making a racket with his trailer-park friend in February 2009, Chris Dewey, a Mahnomen County sheriff's deputy, might still be alive today. If Fairbanks didn't have a gun with him when Dewey answered a noise complaint, Dewey might still be alive today. And if Fairbanks hadn't put a bullet in Dewey's brain, the deputy might still be alive today.
But Fairbanks did all of those things, Dewey is dead, and the Minnesota Supreme Court today rejected his latest bid to get out of his first-degree murder conviction when it turned aside his claim that because Dewey held on for not quite two years before dying of complications from the shooting, he couldn't be convicted of first-degree murder.
Dewey was making an inspiring recovery when things started going downhill and he lapsed into a vegetative state. Because Dewey's wife chose not to have doctors treat the condition and, instead, placed the deputy in hospice, Fairbanks argued that he didn't actually cause Dewey's death. He claims the decision of Dewey's family did.
"Here, the causation issue was both known and actively litigated before the district court and, consequently, it was known or should have been known on direct appeal," Justice J. Barry Anderson wrote for the full court in today's opinion.
Although arguments about causation were not made at trial, their absence was a result of an agreement between the prosecution and the defense. Fairbanks's counsel agreed not to argue that Deputy Dewey's family committed euthanasia and, in return, the prosecutor agreed not to question the State's medical witnesses concerning the definition of euthanasia and whether euthanasia caused the death of Deputy Dewey.

This agreement appears to have been the product of a calculated decision on the part of Fairbanks's counsel to acknowledge that Fairbanks shot Deputy Dewey, show that Fairbanks was taking responsibility for his actions, and then present the defense of intoxication. Fairbanks explicitly agreed to this strategy on the record before the trial began and specifically acknowledged that he was aware of the issues that had been litigated during the pretrial phase.

On direct appeal, Fairbanks did not raise the causation issue, but he did raise a related claim by arguing that the common law year-and-a-day rule precluded his murder conviction.
The Minnesota Supreme Court had earlier ruled that a year-and-a-day rule, which some states enacted barring murder charges if a victim dies more than a year and a day after the incident, doesn't apply in this case because Minnesota has no such rule.
Fairbanks' drinking friend, Daniel Vernier, of St Cloud, cut a deal with prosecutors, pleading guilty to one count of failing to render aid in exchange for agreeing to testify against Fairbanks. He was sentenced to two years in prison in September 2009.
"You've spent your life as a criminal, do something with it," Dewey's wife told him at his sentencing. She said she'd hoped Vernier would apologize. He said nothing.