House Speaker Paul Ryan created a typical day in the life of social media the other day when he posted this "selfie" with interns on Capitol Hill.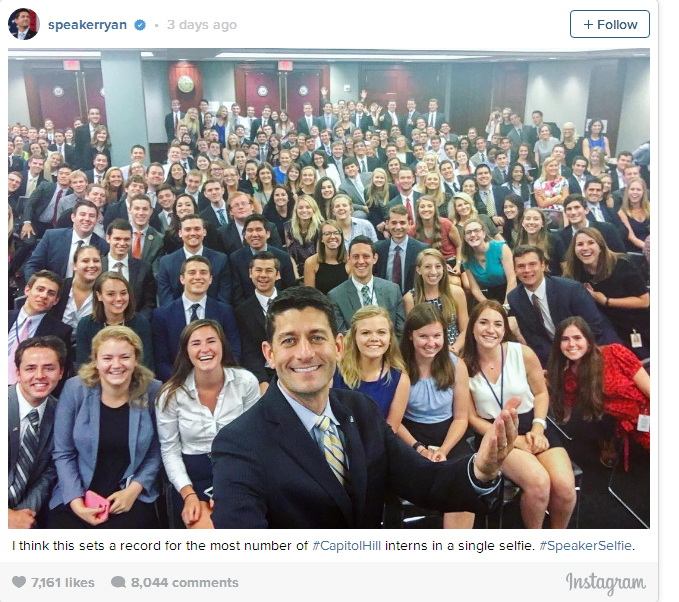 It raised questions about diversity on Capitol Hill, ABC News said of the mostly-white selfie.
It has sparked a fascinating online offensive from other congresspeople who are posting selfies and other images of interns showing much more diversity.
My intern Audra Jackson led Democratic Interns in their own selfie 2day showing #DemInternDiversity #DemInternSelfie pic.twitter.com/83UcIOKS5s

— US Rep E.B.Johnson (@RepEBJ) July 19, 2016
The Democratic Interns on Capitol Hill 2016 #DemInternSelfie pic.twitter.com/ZzUMl4hKoc

— Sheila Jackson Lee (@JacksonLeeTX18) July 20, 2016
Very proud my interns this summer come from all walks of life. Thank you crew! #DemInternDiversity #DemInternSelfie pic.twitter.com/FxQJHy4Xk1

— Rep. Hank Johnson (@RepHankJohnson) July 20, 2016
Some of @RepTerriSewell Interns #DemInternSelfie pic.twitter.com/uq0NoefaOY

— Ashley Dominique (@ashleyd25) July 19, 2016
#diversity makes America greater & more beautiful. I'm proud of my rainbow Hillterns! #demInternSelfie pic.twitter.com/ugqwbOPMvk

— Charles Rangel (@cbrangel) July 19, 2016