The New York Times reports today that people openly carrying their legal weapons at last week's assault on Dallas police made it tougher for police to fight back. It introduces a new wrinkle in an old debate: If everyone has guns, how do you tell the good from the bad?
"This is the first time — but a very concrete time — that I think a law can hurt citizens, police and not protect them," Mayor Mike Rawlings of Dallas said. "I think it's amazing when you think that there is a gunfight going on, and you are supposed to be able to sort who the good guys are and who the bad guys are."
Mark Hughes knows something about that confusion. Dallas police tweeted his image during last week's attack, identifying him as a suspect in the killings.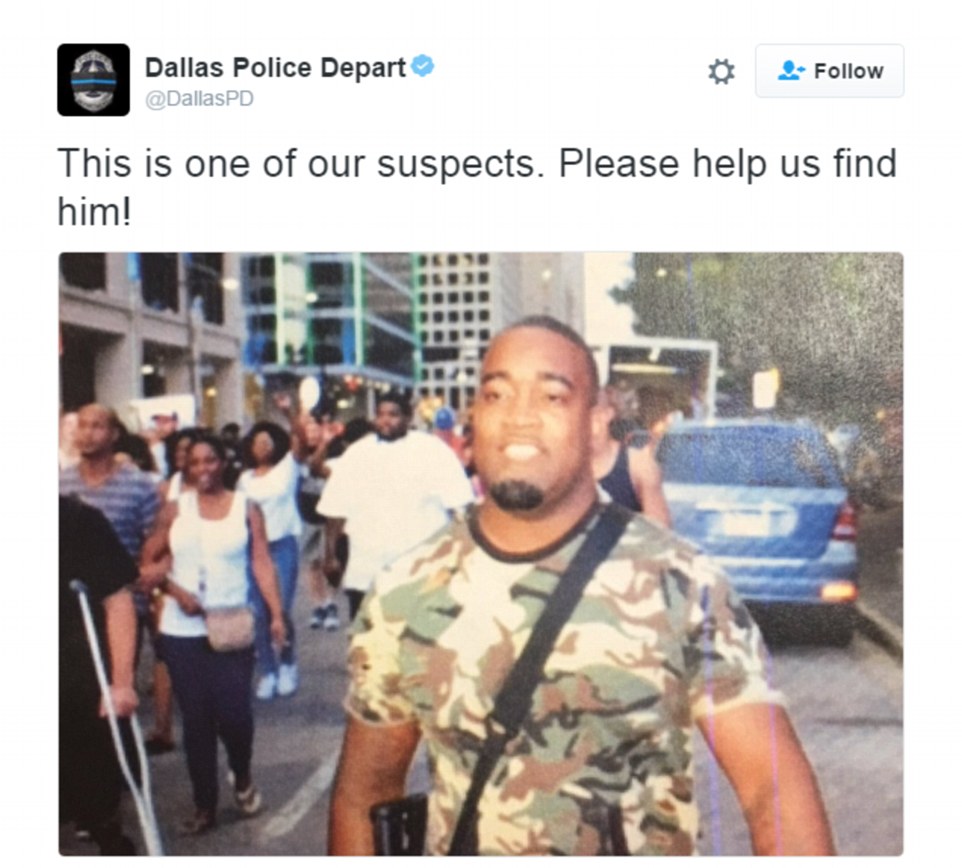 But Hughes wasn't involved in the shootings; he was abiding by Texas law in carrying his gun openly. He was one of 15 or 20 people reportedly carrying AR-15s during the protest leading up to the attack.
Dallas police chief David Brown said when the shooting started, the people with guns ran, too.
"Doesn't make sense to us, but that's their right in Texas," Brown told CNN. "For our officers, they were suspects. And I support that belief. Someone is shooting at you from a perched position, and people are running with AR-15s and camo gear and gas masks and bulletproof vests. They are suspects until we eliminate that."
But he wanted nothing to do with the gun question.
The Times notes that the question of how to tell the good from the bad has already disappeared into the the wider gun debate.
Alejandro Garcia, a spokesman for Lt. Gov. Dan Patrick, said that Mr. Patrick was "not surprised the president and anti-gun forces are once again attempting to use a shooting tragedy to score points for their own political agenda."

The Rev. Terry Holcomb, an open-carry leader and a pastor of the Crossroads Baptist Church in Oakhurst, Tex., said he and others would oppose any efforts to ban the open carrying of so-called long guns as a result of the Dallas attack. "You would expect something like this in New York or California, but it will not see the light of day in Texas," Mr. Holcomb said. "Let's just call it for what it is: The liberal left is anti-Constitution and anti-liberty."

Even Democrats said they were not optimistic that substantial changes to Texas gun laws were in store.

"From my perspective, I don't see anything changing in Texas," said Representative Beto O'Rourke, a Democrat, who represents El Paso.
On Sunday, Hughes, the man wrongly identified as a suspect, went to church, the Associated Press reports.
"What in the world were you thinking?" Bishop T.D. Jakes asked him during services at a Dallas area megachurch.
The crowd of several hundred people laughed. "I'm just curious," Jakes said, chuckling.

Hughes said it was an opportunity to exercise his rights and make a statement, and he would do it again.

"I understand and respect your right," Jakes responded. "But I think the right is wrong."

Several in the audience shouted in agreement.