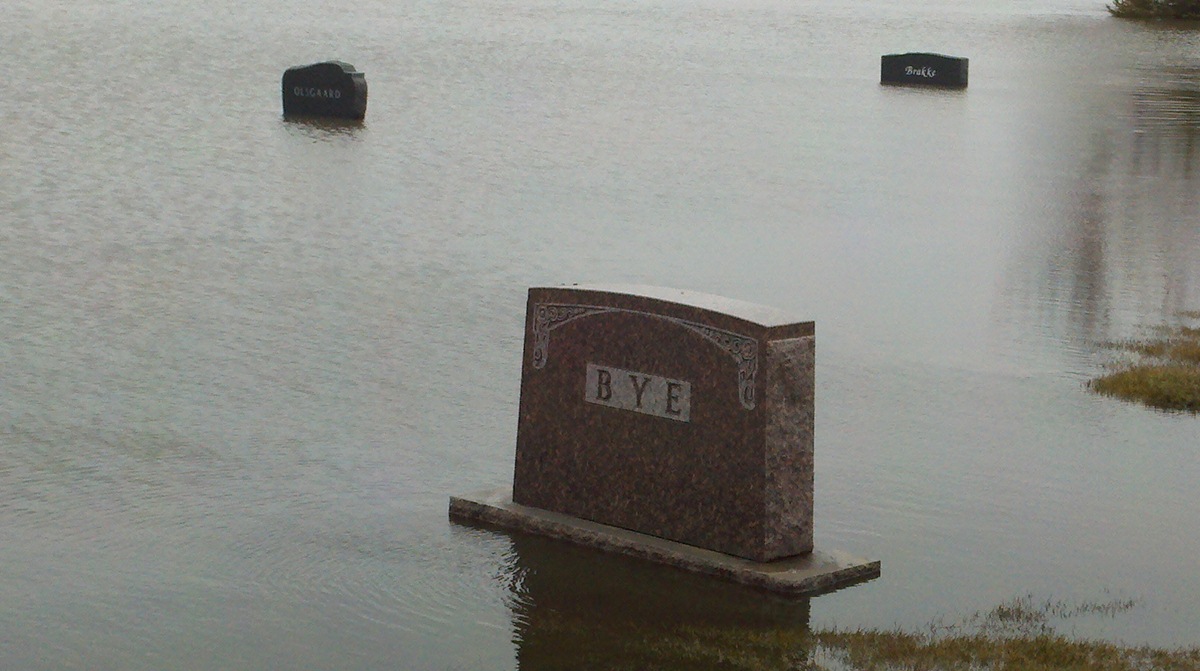 A cemetery is a destination venue, but perhaps there are better ways to attract people to them than dying and funerals.
That's the most fascinating aspect of the brouhaha over plans for a hot rod show at a Roseville cemetery: its directors want people to come visit without having it be about dying.
The Pioneer Press reports today, though, that the first attempt to do that failed with the announcement that the car show has been canceled over protests.
The show wasn't going to be held on gravesites; it would stage at a buffer strip between Larpenteur and the dearly departed. Too close, the community said after plans were publicized, raising the question: how close wouldn't be too close?
This is the thing with cemeteries; they are unproductive real estate. You buy a little plot, you bury a person, and then nothing happens on the property… forever.
On its Facebook page, the Roselawn Cemetery board said it wanted to make the place "less intimidating."
Dear Roselawn friends and neighbors,

Today, your board of directors met today to discuss this weekend's planned car show. After a lengthy discussion around this event, the board voted unanimously to cancel this event. We want you to know of this decision, to hear our reasons and our plans moving forward.

Our discussion and decision were informed and assisted by the calls, e-mails and posting we've received on this topic. Pro or con, we have listened to and read each person's point of view and we are grateful to everyone who took the time to share their perspective.

The car show event was conceived as a way to achieve several positive objectives. First, we are always looking for ways to connect to our neighbors and our community. A car show is the sort of event that has been done successfully for years at other cemeteries around the country and it seemed like a good way to invite people out to enjoy a beautiful Saturday in a charming, out-of-the-way part of our campus. The location we chose for the show was approximately 100 yards from any lot and is easily accessed without interrupting any other visitors.

Second, we saw an opportunity to partner with a local organization for a good cause. As you may have read, all of the proceeds from Saturday's event were intended to benefit the Minnesota Street Rod Association's college fund.

Third, we saw Saturday's event as one small step in our efforts to make cemeteries less intimidating and forbidding for some members of our community. We want people to see Roselawn as we do, as a place of joyful remembrance and celebration, where families and friends can be closer to loved ones and, in turn, closer to one another.

These are good reasons for hosting the show, objectives the board still supports. Even so, we believe those reasons must be subordinated to the concerns voiced by some members of our community; any positives we might gain would be more than offset by the knowledge that we had caused someone distress. For that reason, we decided to cancel the event.

Please know that it was never our intention to do anything that would be disrespectful or disruptive to any visitor or to the memory of any loved one. To anyone whom we inadvertently offended, we offer our sincere apologies. In addition, we plan to make a contribution on behalf of our members to the Minnesota Street Rod Association's college fund so that their good work can continue to be supported.

As we noted above, we are still very interested in finding new and creative ways to connect with the community. To that end, in the near future we plan to host an open house (a "town hall" in the words of one lot owner) where any interested party can contribute their ideas and perspectives. Roselawn has been – and will continue to be – successful if we maintain a respectful and collaborative dialogue among lot owners, neighbors and the community. Look for more details soon. We welcome any opportunity to expand our relationship and to learn how we can better serve you.

Thank you.
Scott J. Spaeth, President Board of Trustees Roselawn
Larry P. Hudella, Superintendent
And so the cemetery is back where it started: How can it be something more than a dying place?
There's always Pokemon.