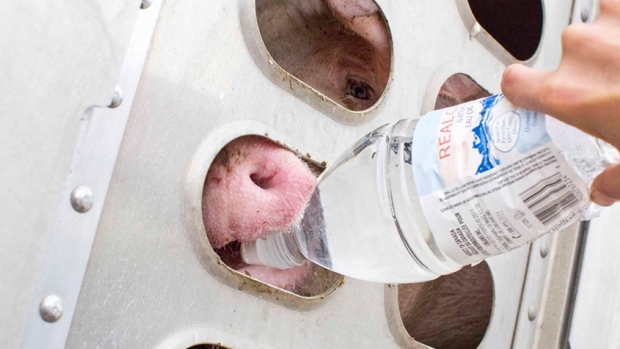 Anita Krajnc, 49, could be in jail soon. She's in day two of her trial in Ontario on criminal charges.
She gave water to some pigs heading for the slaughterhouse.
It happened in June 2015 when the animal rights activist squeezed a plastic bottle through the narrow openings of a truck full of pigs heading to slaughter.
Now her trial is captivating Canada, Krajnc insisting that "compassion is not a crime." The Crown disagrees, the CBC says.
Veldjesgraaf [the trucker] said his main concern was over what was in the water that Krajnc's group gave the pigs, and whether it might contaminate the livestock. But he also agreed, under questioning by defence lawyer James Silver, that he had said to police that Krajnc and Toronto Pig Save had to be stopped because they were "messing with our livelihood."

Crown Attorney Harutyun Apel also called Van Boekel, who said he transports about 110,000 pigs each year to Fearman's for his contract with Sofina Foods. Van Boekel is expected to finish his testimony Thursday morning.

Silver and Krajnc's other lawyer, Gary Grill, intend to call Krajnc to testify, as well as Armaiti May, an expert in animal welfare and a member of the Humane Society Veterinary Medical Association, who will testify about whether the pigs in the video are in distress.
Krajnc's attorney tells the CBC he plans to use virtual reality to show people what life is like inside a slaughterhouse.