We've written about Ken E Nwadike Jr., a number of times in the last few years, back in the days when a hug wasn't quite so threatening to people.
He gave away free hugs at the Boston Marathon after the bombings there.
In March, he went to a Donald Trump rally in Wisconsin to spread a little love amid the sectarian strife of American politics.
So should we really be surprised in Charlotte this week when he showed up to hug people — including police — during violence that broke out after 43-year-old Keith Lamont Scott was killed by police earlier this week? (Video NSFW)
He tried to keep demonstrators from attacking reporters during a melee that ensued during which another man was shot and killed.
"I lost my patience with a few people, but I know I got through to many and kept some from getting arrested," he writes on his Facebook page.
How divided are we? We can't even agree on hugging.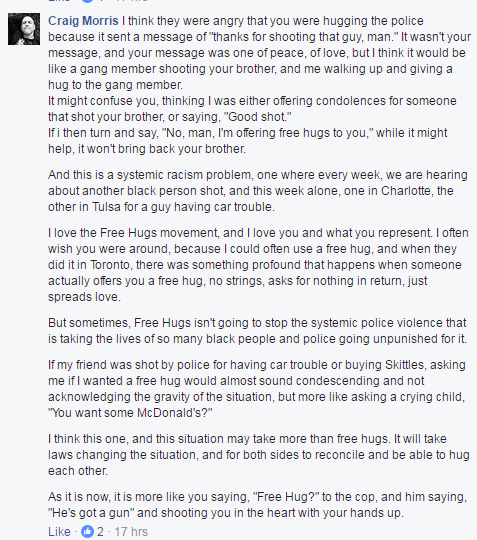 "People are hurting, and I understand that. I think it was very tough for them to see a black man hugging police officers, which to me, doesn't really make sense," Nwadike told Anderson Cooper on CNN last night. "I don't see it as us vs. the police. We're all human beings. I was pointing out to them that those specific officers didn't do anything to them, and it's very important for us to spread love towards one another."
"Free Hugs" activist on why he traveled to #CharlotteProtests, hugged officers: "I don't see it as us v. the police" https://t.co/HuPjgMw0Al

— CNN (@CNN) September 23, 2016
"All you need is love," John Lennon wrote in his song that people often gather and sing during particularly troubled times.
He was wrong.