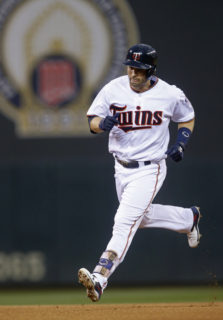 It's a shame the Minnesota Twins have been such an unwatchable collection this season because what Brian Dozier, the team's second baseman, is doing is historic.
He hit another home run last night in another Twins loss. He's hit 25 of them in the second half of the lost season. His tater last evening came a day after hitting three — in another loss — on Monday.
The Washington Post says this is historic.
While we're diving down this rabbit hole, let's look at Dozier's overall second half, in which he entered play Tuesday with a 1.135 on-base-plus-slugging percentage. Again, dating back more than a century to 1913, there have been just 65 times in which a player has posted a higher OPS — and by just 35 players.

The list, again, is mostly predictable — Babe Ruth nine times; Ted Williams, Rogers Hornsby, Jimmie Foxx and Lou Gehrig four times apiece; etc. Even the random names — Mike Napoli, Jim Edmonds, Ken Caminiti — are plausible.

Dozier just doesn't seem to fit. And he has 23 games to play. Which means it's not ridiculous to think he could creep into an even more exclusive club: those who have hit 30 homers in the second half of a season.

A dozen guys have done this (Sosa three times; McGwire, Ralph Kiner and Albert Belle twice). The most recent: Toronto's Jose Bautista in 2010. Ruth did it in 1927, Harmon Killebrew in 1962, and Hack Wilson in 1930.

Indeed, the only players to hit 30 homers in the second half of a season who aren't in the Hall of Fame are McGwire, Belle, Sosa and Bonds — and we won't get into the reasons for most of those exclusions — along with Ryan Howard and Bautista, who are still active.
Poor Brian Dozier. It was obvious in Paul Molitor's post-loss news conference that now people will consider it a disappointment if he doesn't hit 40 homers every season.
CBS Sports writer Dayn Perry suggests the Twins should consider trading Dozier.