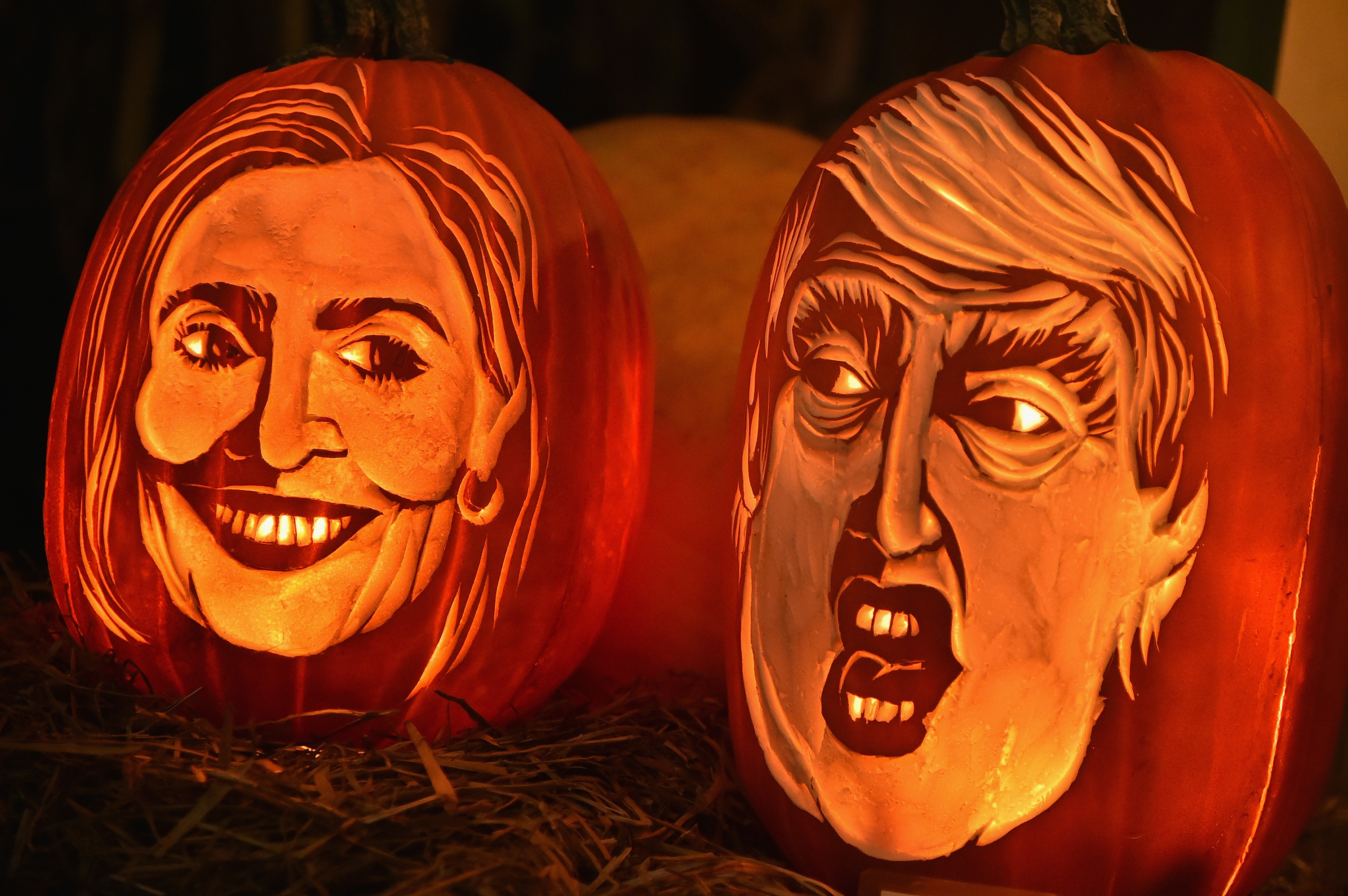 A mother from Brooklyn, N.Y., took Twitter by storm yesterday when she shared a picture of her 8-year-old son in his Halloween costume: He dressed up as Hillary Clinton.
In a bright yellow blazer, with his hair blown out in Clinton's signature 'do, he's waving to the people and toting a candy box with the campaign's logo on it. And that's his real hair, his mother notes — #notawig.
Our 8 year-old son is with you @hillaryclinton today and everyday. #halloween2016 #notawig #imwithher #heswithher #wholefamswithher @HFA pic.twitter.com/EtGrkvoJiZ

— DGR (@DebbersGar) October 30, 2016
Apparently, @DebbersGar first pitched the costume to her 5-year-old daughter, who turned her down flat. "Well, someone's gotta be Hillary!" her son announced. And he pulled it off with panache.
Enter the internet.
People took the opportunity not just to air their political views (some Twitter responses suggested that he dress in a prison inmate uniform instead), but to criticize the idea that a boy could dress as a powerful woman – or, really, any woman.
@DebbersGar why is your son dressed up like a girl? @HillaryClinton @HFA

— Mary Whittier (@marylovefreedom) October 31, 2016
Many of the more strenuous responses aren't printable.
But there were also parents who loved the idea. This mother shared a picture of her own son, dressed as astronaut Mae Jemison, "his hero," she wrote.
@DebbersGar @HillaryClinton @HFA Yea! My son is going as his hero, Mae Jemison. in this pic, he's saying, "I look just like her!" pic.twitter.com/t24BHd2m9O

— Sarah Gioia (@sarah_gioia) October 31, 2016
That photo quickly became a target too, for people who thought that a boy shouldn't dress up as an astronaut who happened to be a woman for Halloween. She deleted the Tweet.
Just deleted a tweet so that people would stop saying cruel things about a 6 year old boy.

— Sarah Gioia (@sarah_gioia) October 31, 2016
Would people have batted an eye if a girl had dressed as Abraham Lincoln? Or George Washington?
Is Halloween a time when a little boy can be anything – a superhero, a mummy, a spider – except a presidential candidate, because she's a woman?
The historic nature of Hillary Clinton's candidacy – she is the first women to be endorsed by a major party for the presidency, in the entire history of the United States – has been overshadowed by other issues this election.
But this boy's costume is a reminder that, for kids of any gender, dressing like a powerful politician no longer just means dressing like a man.