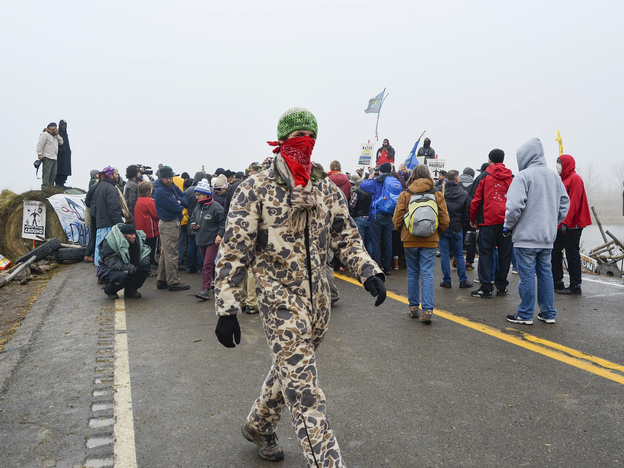 Even if they're thousands of miles away, scores of Facebook users are trying to help Dakota Access pipeline protesters at Standing Rock in North Dakota.
Rumors have spread online that the county sheriff is using Facebook check-ins to target protesters at Standing Rock.
We don't know if it's true, but the internet is convinced it is.
So to throw off cops, the plan is for Facebook users to make a public post saying you're at Standing Rock with the goal of overwhelming police with check-ins.
Then, users are told to make a private post explaining why they're "checked in" at North Dakota even if they're really in Boston or Seattle or Lubbock, Texas. It's also crucial that the private post uses the "Randing Stock" spoonerism in further attempts to thwart anyone trying to surveil protesters online.
Here's an example of one of the standard private posts being shared: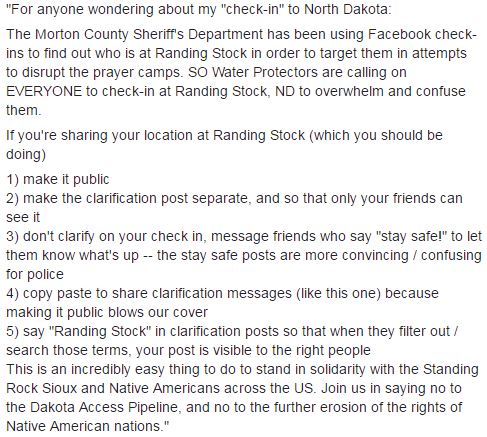 Law enforcement arrested well over 100 people last week, saying they were on private land owned by Texas-based Energy Transfer Partners, which is trying to build the oil pipeline.
• More from MPR: Standing Rock protesters with connections to Wounded Knee on why they're there
But the protesters say the land in question doesn't belong to the company, citing an 1851 treaty signed by the federal government and several tribes.
"We have never ceded this land. If Dakota Access Pipeline can go through and claim eminent domain on landowners and Native peoples on their own land, then we as sovereign nations can then declare eminent domain on our own aboriginal homeland," Joye Braun of the Indigenous Environmental Network said in a prepared statement, according to a Reuters report.