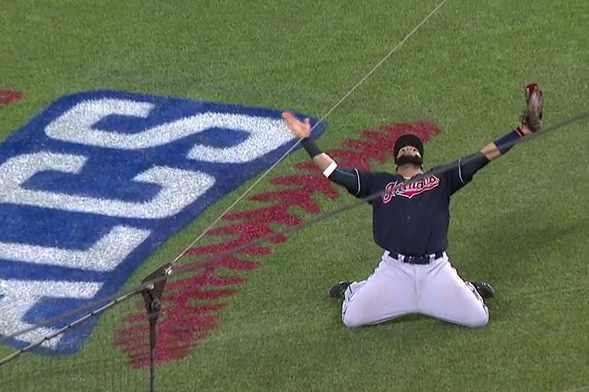 Carlos Santana of the Cleveland Indians celebrates after catching a foul ball, ending a win over Toronto, sending his team to the World Series. Photo via MLB.TV
You football and hockey fans are going to want to stop reading right here because you've shown in the past you can't handle this truth: There's no better sport than baseball.
The Cleveland Indians are going to the World Series and those of us who've followed the team as fans for more than 50 years, never having had the luxury that Minnesota Twins fans have had of knowing what it's like to win a World Series, are doing what baseball fans get to do at this time of the year. They're using baseball as the yardstick marking life's passage.
We suspect that by this time next week, we'll be joined by fans of the Chicago Cubs, who've buried loved ones who used their ebbing energy to dream of one last chance to see the Cubs win, if not in this life, then maybe the next.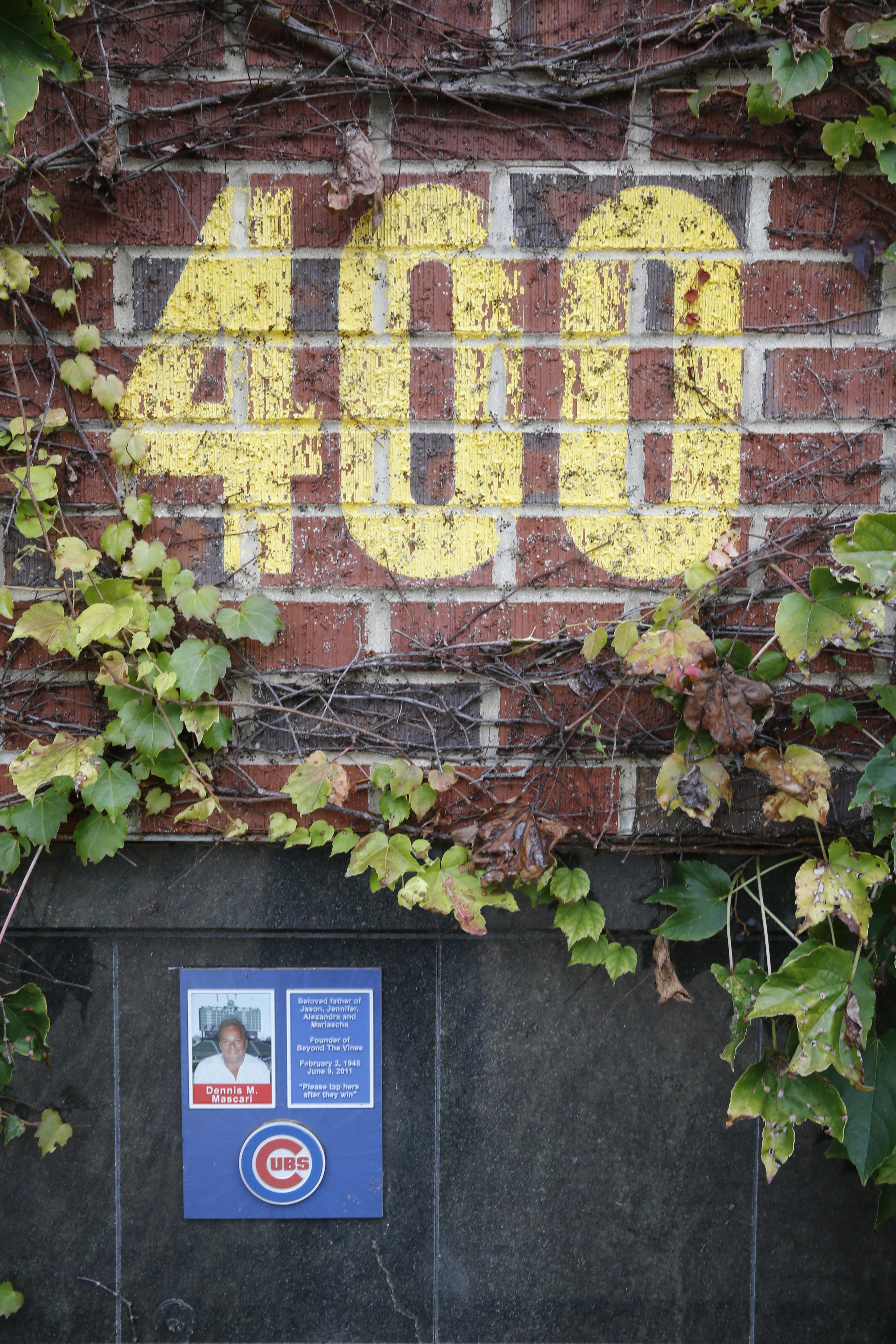 A replica of Wrigley Field's outfield ivy walls, is the final resting place for the ashes of nine Cubs fans at the Bohemian Cemetery, Wednesday, Oct. 19, 2016, in Chicago. The Wrigley Field themed mausoleum wall was the dream of Dennis M. Mascari, who's ashes are places just below the 400 feet marker. Charles Rex Arbogast | AP
I never lived in Ohio but I became a fan of the Cleveland Indians because my older brother, Mike, was an Indians fan and I was a pretty big fan of my older brother Mike, who was born in 1948, the year the Indians last won a World Series.
How he became an Indians fan I'll never know since he died a few years ago. But I suspect it had something to do with my aunt, who did live near Cleveland and who presented him at some point with her 1954 (the year of my birth) Indians scrapbook, which she meticulously kept as a teenager.
"Great Game! Now on to the World Series!!" the Facebook message said moments after yesterday's game. It was from my aunt, whom I haven't seen in at least 40 years.
Every newspaper game story was in her scrapbook. So were scorecards and programs, and baseball cards from that season, during which the team set a record for the most wins in baseball history, shortly before losing four straight to Willie Mays and the New York Giants in the World Series. That's the way Cleveland rolls.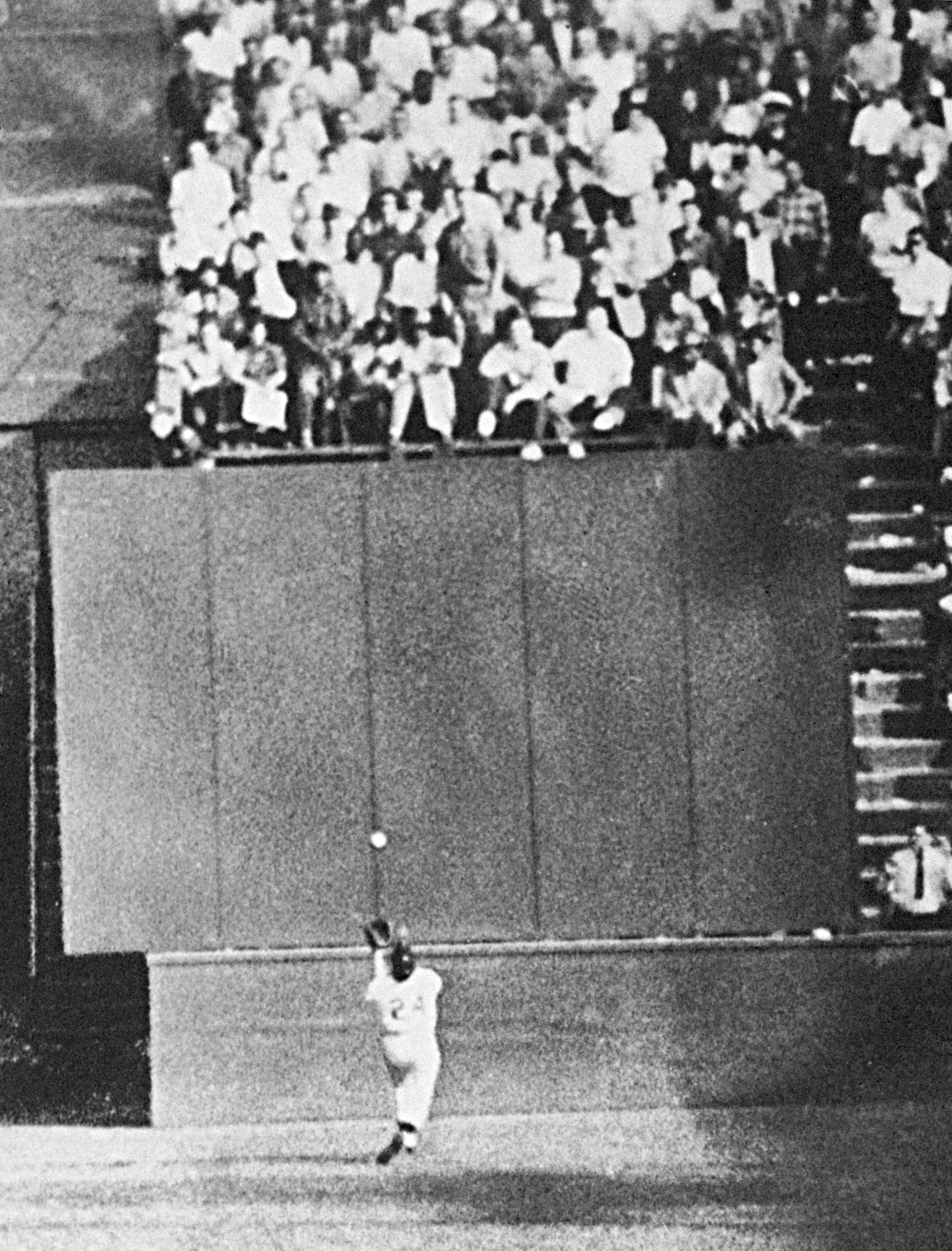 In this Sept. 29, 1954, file photo, New York Giants center fielder Willie Mays, running at top speed with his back to the plate, gets under a 450-foot blast off the bat of Cleveland Indians first baseman Vic Wertz to pull the ball down in front of the bleachers wall in the eighth inning of Game 1 of the World Series. AP File
I got the scrapbook for my own the way brothers get such things. When my brother was otherwise distracted with some other part of his life, I snuck into his room and stole it.
Today, it would be worth thousands. And I had it until a few years ago when, after I went off to college, my mother cleaned my room and consigned the scrapbook to the loft in the barn, where it remained for decades until my twin brother needed the space to store items for his pharmacy and shoved everything in the loft into a dumpster.
He denies this, but he's a Red Sox fan, so I know he's lying.
My older brother isn't around to see his team win a World Series. Neither is my grandmother, who took me to Fenway Park when the Indians came to town and to her dying days told the story of how I stood up after the Indians, who were terrible then, beat the Red Sox and I shouted, "We won! We won! We won!" to the dismay of the Red Sox fans around us.
Even the Sons of Sam Horn won't pop a kid and his grandmother.
She was a Red Sox fan too, until her last year of life, when, through the miracle of cable TV, she started following the Mets and became a fan, in particular, of Mookie Wilson. It was 1986. She died on Sept. 14 that year at 94.
Before they closed her casket, I put a Red Sox cap next to her.
A month later, her two favorite ball clubs were playing in the World Series when Bill Buckner made the biggest error in the history of the game on a ball that was hit … by Mookie Wilson.
Football can't do perfection like that.
By the time my oldest son was born in 1985, the Indians were perennial losers of the Cubs variety. On the day he came home from the hospital, a package arrived from the staff of the radio station I worked with in Boston. It was a Cleveland Indians onesie.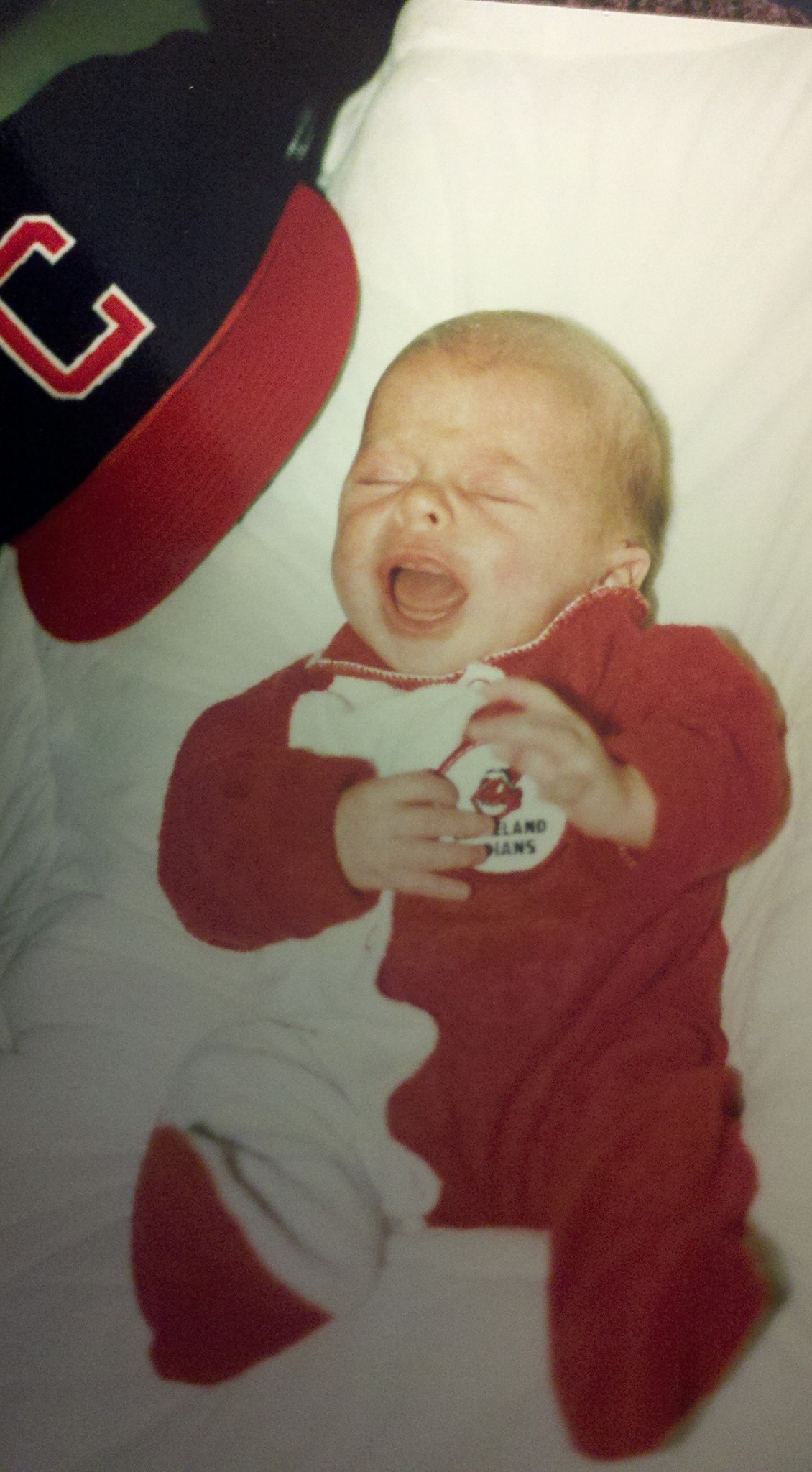 Alas, it didn't take. I was working in New York City at the time and the forces of evil are strong there. My son grew up to be a Yankees fan. We don't talk about him anymore.
As with most second sons, this one was easier to pollute. He grew up an Indians fan. Even more peculiar: He grew up to be an optimistic Indians fan, the kind who knew mere minutes before the greatest comeback in the history of the game of baseball, that his team would stage the greatest comeback in the history of baseball.
Beyond the center field fence in the ballpark that will host game one of the World Series next Tuesday night, lies a brick commemorating the kid and his optimism, the same kind my older brother used to have.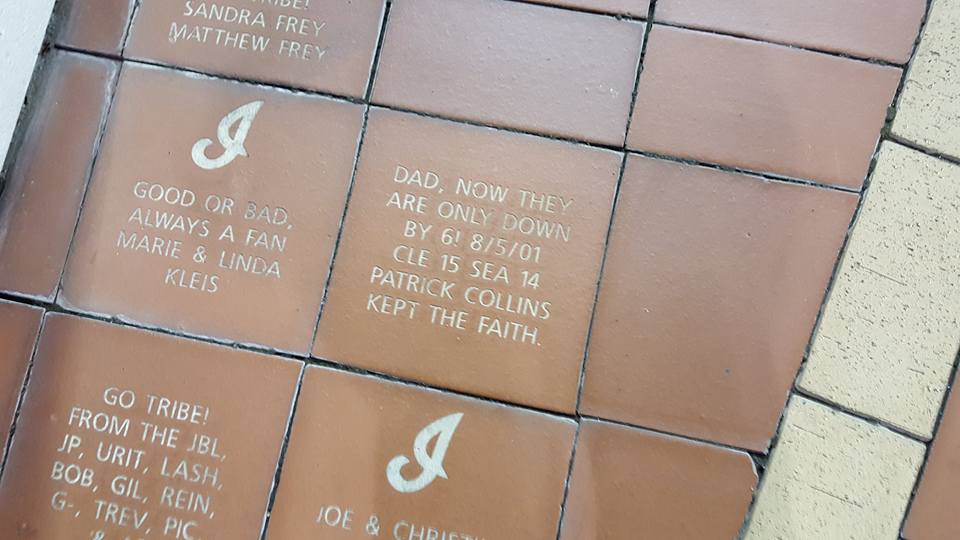 Photo courtesy of @tcanelle
The average resale value of tickets for next week's games in Cleveland has just shot past $2,000. Weather permitting, we'll fly to Cleveland next week and stand outside the gate for game two against the Cubs or Dodgers and consider for a moment or two that baseball's few imperfections include the fact tickets aren't awarded based on long-held but false hope.
"My mother-in-law was from Ohio and a big Indians fan," my friend and MPR News editor Paul Tosto, a Red Sox fan, wrote to me today in an email. "She died a few years ago and it bums me out she's not here to see them in the World Series. I suspect if the Indians win you'll see many 'this is for my dad' stories similar to the Sox winning in 2004."
Baseball is just a game that naturally lends itself to overwrought metaphors. That's a feature, not a bug. And it's singularly the nature of the game.
We pull our past with us — our brothers, our grandmothers, our aunts, our sons and daughters — as we hang on for one more season, one more game, one more chance to dream that salvation will come, if not in this life, then surely the next. Or the one after that.
"Nobody ever talks like this about hockey or football or basketball," Tosto said. "Ever."
Forever.