Former Minnesota Vikings punter Chris Kluwe sure can hold a grudge.
Just a few minutes after the Vikings announced that they've cut place kicker Blair Walsh, Kluwe tweeted an ungraceful response.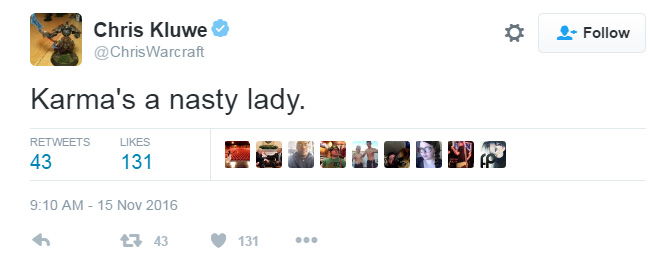 This one goes back to January 2014 when Kluwe wrote that special teams coordinator Mike Priefer used homophobic language around him during the debate over same-sex marriage in Minnesota.
Near the end of November, several teammates and I were walking into a specialist meeting with Coach Priefer. We were laughing over one of the recent articles I had written supporting same-sex marriage rights, and one of my teammates made a joking remark about me leading the Pride parade. As we sat down in our chairs, Mike Priefer, in one of the meanest voices I can ever recall hearing, said: "We should round up all the gays, send them to an island, and then nuke it until it glows." The room grew intensely quiet, and none of the players said a word for the rest of the meeting. The atmosphere was decidedly tense. I had never had an interaction that hostile with any of my teammates on this issue—some didn't agree with me, but our conversations were always civil and respectful. Afterward, several told me that what Mike Priefer had said was "messed up."
Later, the Pioneer Press reported that Walsh was hauled in by team investigators to confirm Kluwe's account of the 2013 incident. He apparently refused.
In a five-hour meeting Friday with investigators, Halunen said Kluwe identified Walsh and long snapper Cullen Loeffler as witnesses to Priefer allegedly making homophobic comments numerous times during the 2012 season in meetings with the punter, kicker and long snapper, and that Pico was told about it after the fact. Halunen noted that Kluwe told investigators he is willing to take a polygraph test.

Walsh issued a statement through the Vikings on Jan. 2 in defense of Priefer. But Halunen said Kluwe retained text messages in which Walsh referenced what Priefer allegedly said, including a text related to Priefer allegedly saying, "We should round up all the gays, send them to an island, and then nuke it until it glows."

"If Walsh is going to lie, this will all be exposed, I'm confident," Halunen said. "If Walsh is going to lie, that's his choice. But at the end of the day, we believe this is going to come out. We have evidence. So he made that choice, I guess."
The two others who apparently witnessed the coach's outburst were released within a year. With today's news, they're all gone.
Priefer is still special-teams coordinator for the Vikings.
We might suggest, by the way, that there are better ways to use Twitter. Like this:
Pour some out for Blair Walsh. #Skol pic.twitter.com/QyMUymdROT

— The Growler Magazine (@growlermag) November 15, 2016