Two news stories today show the danger of taking a stand in today's America.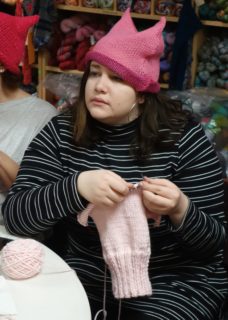 Elizabeth Poe has had it with women — some of them, anyway — after last Saturday's march in support of their cause.
She owns a yarn store — The Joy of Knitting — in Tennessee and tells a local TV station she decided to take a stand when a woman came into her store looking for pink yarn to knit a cat hat, made popular by the Pussyhat Project.
''I said, 'Ma'am, if I had the yarn for the project you're looking for . . . I cannot condone that behavior anymore, and I just can't sell it,'' she told NewsChannel5.
She posted a notice on her Facebook page that people who want yarn to knit into hats in support of the women's movement should shop somewhere else.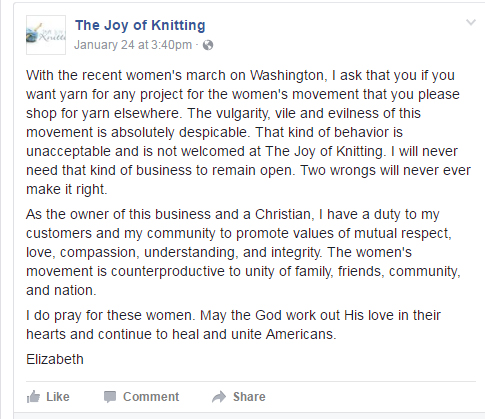 "I am not perfect. I'm not trying to throw stones at this movement. I'm just telling you we've lost our sense of social decency and we are hurting. And I hurt with these women," she told the TV station.
Opponents of her position have used Facebook tools to lower the store's rating.
Meanwhile, in Texas, a radio station has banned music by Madonna, citing a "lack of patriotism."
"Banning all Madonna songs at HITS 105 is not a matter of politics, it's a matter of patriotism," Texarkana's Hits 105's general manager said. "It just feels wrong to us to be playing Madonna songs and paying her royalties when the artist has shown un-American sentiments. If all stations playing Madonna took their lead from us, that would send a powerful economic message to Madonna."
"Yes, I'm angry. Yes, I am outraged. Yes, I have thought an awful lot about blowing up the White House," Madonna said at Saturday's rally.
She apologized in an Instagram post which is no longer available. She took her account private.
But some people are trying.
Rosalynd Harris went to the women's march and was feeling pretty good on Monday at her restaurant job when three white men from Texas, one wearing a Make America Great Again hat, walked into the restaurant that promotes social justice.
Harris acknowledged she rather prejudged them.
"You automatically assume if someone supports Trump that they have ideas about you," she told the Washington Post, "but [the customer was] more embracing than even some of my more liberal friends, and there was a real authenticity in our exchange."
When they finished eating and left, they left something behind.
We rise by lifting others. A lovely act of kindness pic.twitter.com/S01SV3w8ts

— Busboys and Poets (@busboysandpoets) January 24, 2017
"We may come from different cultures and may disagree on certain issues, but if everyone would share their smile and kindness like your beautiful smile, our country will come together as one people. Not race. Not gender. Just American. God Bless!"
"As I sat there I thought about the entire weekend and I thought I don't know her, she doesn't know me, but if most Americans have a preconceived perception about people then we're never going to get better," Jason White, the man who left the tip, told a TV station.
He said he found the inauguration on Friday and the women's march on Saturday to be "the very foundation of what it means to be an American."