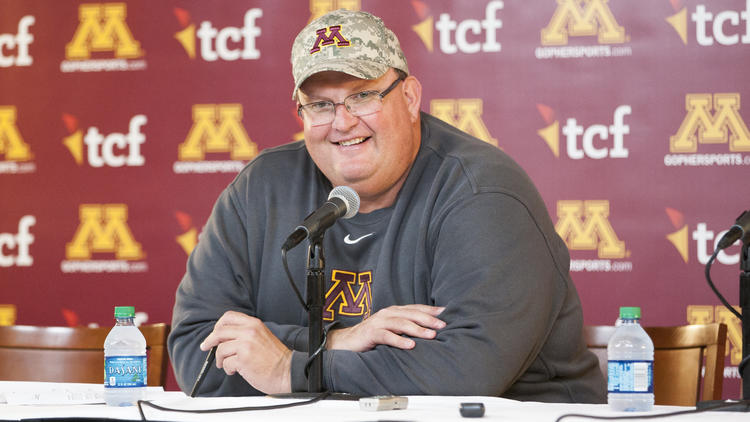 The firing of University of Minnesota football coach Tracy Claeys reinforces a good piece of advice: Be careful what you tweet. And don't thumb your noses at the people who sign your paycheck.
Claeys was a success on the field and really bad at social media off it.
He was, despite assertions to the contrary, fired for this tweet, which he posted as his team boycotted football activities in support of 10 players implicated in an alleged gang rape, and which gave university officials enough cover to fire a coach they didn't care for anyway.

Claeys never took down the ill-advised tweet, which made it obvious he had no clue what the big deal was surrounding the scandal, further making it questionable whether he was capable of molding young men into something other than the NFL's next headaches.
So, goodbye, he said yesterday in a last shot at the entire state.
"I won't be up here freezing my ass off, so y'all enjoy the winter," Claeys told KSTP.
I've got the money. You get the winter. Oh, and a team of questionable character.
Fire the coach that stick with his players .. it's sad how this administration doesn't care about the players at all

— Jalen Myrick (@5__On__It) January 3, 2017
How can someone makes such an idiotic decision…

— Carter Coughlin (@Cmoe34) January 3, 2017
Wanna learn how to destroy a football program that's on the rise follow the blueprint of this administration..

— Hollywood (@RayBuf25) January 3, 2017
Jerry Kill on @1500ESPN: I will never step foot in TCF Bank Stadium or the football facility ever again.

— Phil Mackey (@PhilMackey) January 4, 2017
"Why does stuff like this keep happening at Minnesota?" Sports Illustrated's Brian Hamilton asks today.
He's a former Pioneer Press reporter who knows what he's talking about. He says the problem is no one in charge at the University of Minnesota is cynical enough.
In some senses, that's commendable: Insisting upon the best in others can be a nice, easy way to live. In the realm of college athletics, that sort of blind faith gets you embarrassed over and over. When assessing the possible fallout for the '99 academic fraud scandal, both before my arrival and after, people who worked in the athletic department or were close to those involved in the crisis would consider the guilty parties and defend them this way: Oh, he would never do that. Well, he would. And he did. And willful ignorance turned your prosperous basketball program inside out.

Applying this theory to the Teague fiasco is trickier, because he had no connections to the state. But it's not hard to imagine Minnesota decision-makers believing that merely hiring Teague made him one of them, and that by extension he'd never have the capacity to do the distasteful things that—surprise!—he most definitely did. The recent football scandal got out of hand, one can imagine, because school administrators felt they could let the Office of Equal Opportunity and Affirmative Action investigation run its course (as it absolutely should) and then make erroneous or elusive statements about the process and how much the football coach knew about the ensuing discipline, all without the team raising a massive stink. You can see the thought bubble somewhere in the Bierman Athletics Complex: Our kids wouldn't do that. This conveniently and horribly misread the current climate in which college athletes feel more empowered to raise said stinks than ever before. So the school got knocked around for a few days and the coach eventually got fired, when the people in charge likely could have headed off or at least muted a precipitously bad reaction from college kids.
"No one is happy with the administration right now. I don't know who would want to be a part of this program at this time," quarterback Mitch Leidner said.
"Idiotic decisions have, indeed, been rampant throughout the football program. This wasn't one of them," the Pioneer Press' John Shipley says.
Reminder: The university is razing buildings, moving earth and trying desperately to raise $169 million to build an "Athletes Village" that will feature a new indoor football practice facility, offices for the coaching staff, a locker room for the players and a 24-hour training table for all student-athletes. Yet we're asked to believe that 100-plus Division I athletes — 85 of them on full scholarship — are now victims of a world gone mad. That the university doesn't have the right to determine whether their behavior breaks school standards.

Claeys is not without fault. His encouragement for the player revolt via Twitter was short-sighted, unwisely undermining the authority of his two most important superiors — athletics director Mark Coyle and school president Eric Kaler — and tacitly supporting holding the Holiday Bowl ransom until player demands were met. That included reinstatement of all 10 suspended players and apologies from Kaler and Coyle.
The athletic director at the U, new on the job, was never a big fan of Claeys, whom he inherited, the Star Tribune's Chip Scoggins points out.
Attendance for home games dropped to its lowest level in 14 years. Former AD Norwood Teague's ill-fated "scholarship seating" price hikes had more to do with dwindling attendance than Claeys' coaching, but Coyle apparently felt the program is suffering from a crisis of confidence with fans.

Not all fans, though. Anger directed at Coyle and University of Minnesota President Eric Kaler is being heard loud and clear. A healthy percentage of people blame Coyle and Kaler for this mess, to say nothing of the outrage expressed by Claeys' players.

"They have a right to be angry, they have a right to be frustrated," Coyle said. "I'm hoping that our students understand that that 'M' never comes off."
"We need a leader who sets high expectations athletically, academically, and socially," athletic director Mark Coyle said yesterday in announcing the coach's firing.
Those would be good requirements for the parents of the next generation of Gophers football players too.
Archive: In boycott over U of M suspensions, the issue isn't football