When a bipartisan group of legislators proposed that the Legislature pass more restrictions this month on the use of cellphones while driving, Republican lawmaker Warren Limmer offered a reason why it shouldn't.
"They like their freedom," Limmer said of people who want the freedom to endanger other people.
Freedom may have killed Scott Spoo, 35, of Woodbury this week. He was in the crosswalk on Dayton Avenue in St. Paul on Wednesday when a driver didn't stop.
Peter H. Berge, 60, of St. Paul, has been arrested.
"According to witnesses interviewed at the scene, Mr. Berge may have been using his cellular phone at the time of the crash," police spokesman Steve Linders tells the Star Tribune.
Maybe he was. Maybe he wasn't. Even if untrue, it's hardly an anomaly that drivers are on their phones and the rest of us are at risk because of their entitlement — freedom, if you will — to put us at risk.
On its Facebook page today, Sweet Science Ice Cream, tries a word that just doesn't seem to make any difference to far too many drivers: "please."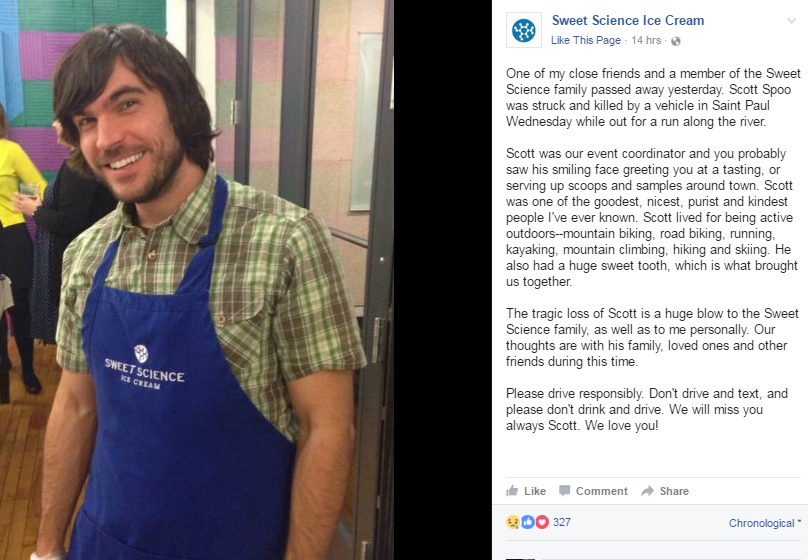 Drivers with cellphones aren't the only ones who cherish freedom.
So do people in crosswalks.
[Update 3/2/17 — the Star Tribune reports the driver has been diagnosed with a brain tumor. "The search warrant affidavit did not address what police said earlier, that Berge was distracted by his cellphone at the time. The filing did say the 60-year-old attorney told police that Spoo 'stepped out in front of him and he did not see him,'" the newspaper reported.]