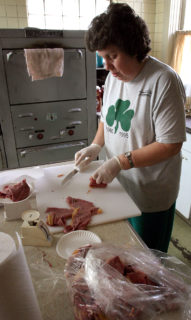 Good news, Catholics. You're cleared to consume as much corned beef as you can stand on St. Patrick's Day.
The Catholic Spirit reports that Archbishop Bernard Hebda has granted a dispensation from the practice of not eating meat during Lent. And St. Patrick's Day falls on a Friday this year.
However, if you eat corned beef on St. Patrick's Day, you're required to "undertake a work of charity, an exercise of piety, or an act of comparable penance on some other occasion during the Second Week of Lent," according to Susan Mulheron, chancellor of canonical affairs for the Archdiocese of St. Paul and Minneapolis.
"When you get a dispensation — and I think it's coming — you should do penance on another occasion," the archbishop said when he was quizzed on the subject earlier this month at a young Catholics gathering at O'Gara's. "So it's like a get out of jail free card, but you have to pay sometime."
(h/t: Phil Picardi)