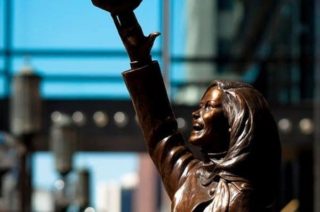 It takes a lot of thinking to make a statue of a woman throwing her hat into the air.
Gwen Gillen, who died two days after Mary Tyler Moore, is the woman who beat 20 other sculptors for the right to make the MTM statue that might have seemed like a tacky project at the time — after all, it promoted a TV network — that has, instead, become a symbol of Minneapolis.
In her obituary in the Milwaukee Journal Sentinel today, the complexity of creating the statue is revealed, based on a previous interview Gillen gave to the paper.
"I actually practiced throwing the hat to find out when it left the hand," Gillen said in 2001. "It comes out between 75 and 80 degrees on the slant. So I'm showing it at just between 78 and 80 degrees, with the hat just touching the fingers of her extended right hand, and the thumb open.

"I'm not trying to do anything tricky or silly — suspending wires or attaching it to a building or pole. I thought this would be a good way to achieve the effect."
Mary Tyler Moore was her signature piece, but certainly not her only piece.
There's Gertie the Duck on the Wisconsin Avenue bridge in Milwaukee.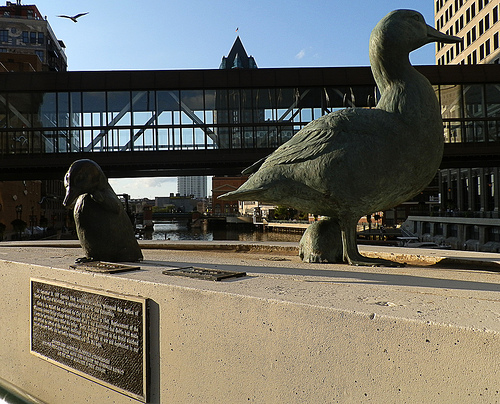 In Plover, Wis., the Korean War Memorial features a nurse and Army and Marine infantrymen, because the infantry bears the brunt of the battle. None is carrying a weapon. That's intentional.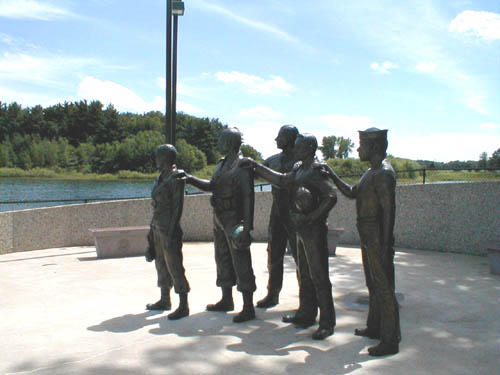 You've seen her work if you've been to the Wisconsin State Fair. The tile of a cow eating a cream puff? That's hers.
Sadly, it's become "a hot mess," the Journal Sentinel says.
And Michelle Witmer will live forever at the Wisconsin Department of Military Affairs in Madison, even though she was killed in Iraq.
Gillen told NPR in 2005 that she was going to put a typically serious face on the statue, the kind that usually memorializes the fallen. Then she met Witmer's family.
"You figure there's so many military sculptures out there, and they all have the sort of same feeling to them as far as being honorable, country, duty, serious," she said. "I mean, it's not a light subject, but you don't see many of them smiling. And it's not made up something–it's not something–`Well, I want to put a smile on her.' She constantly had a smile on her. You've got young people that are dying in this war, and young people don't go around with these serious expressions on their face."

Says the Journal Sentinel…
Gillen came to sculpting from the theater where she had acted and designed sets. She grew up in Quincy, Mass., and spent a year studying acting at American Academy of Dramatic Arts, where she lost her Massachusetts accent. One evening at a party in New York City, she met Ronald W. Gillen from Brooklyn.

The pair wed in Spokane, Wash., on May 20, 1961. The couple followed Ronald Gillen's assignments in the Air Force around the world, living in Japan and Guam, among other places. They moved to Milwaukee so Ronald Gillen could enroll in classes at Milwaukee School of Engineering. They raised their two children in Hustisford.

Alessandra Gillen remembers her mother creating small study sculptures in her studio in the basement of their Hustisford home. As she worked, Gillen always listened to classical music. She was an anglophile who loved watching British movies and television. Every couple of years, she'd visit friends Jenni and Anthony Hopkins in London. Gillen's bust of Anthony Hopkins is on display at a theater in London.
There are more. In Lake Geneva, Wis., this golfer is hoping the foursome will hurry up.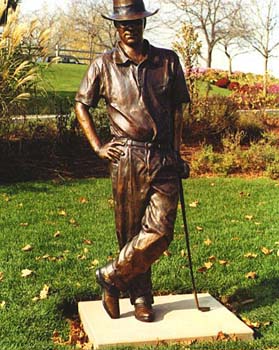 She also created the life-sized sculptures of Father Kentenich, founder of the Schoenstatt Sisters of Mary, that stand outside the Order's chapels near Pewaukee, Wis., Rome, Italy, and Puerto Rico.
"I did what I wanted to do, but I never knew beforehand what that was," she said in a 2010 interview. "You have to go with what you are. If you do things just for money, it will be terribly boring. If you do what feels worth doing, money is a side benefit."
Gillen was 76 when she died on Friday.