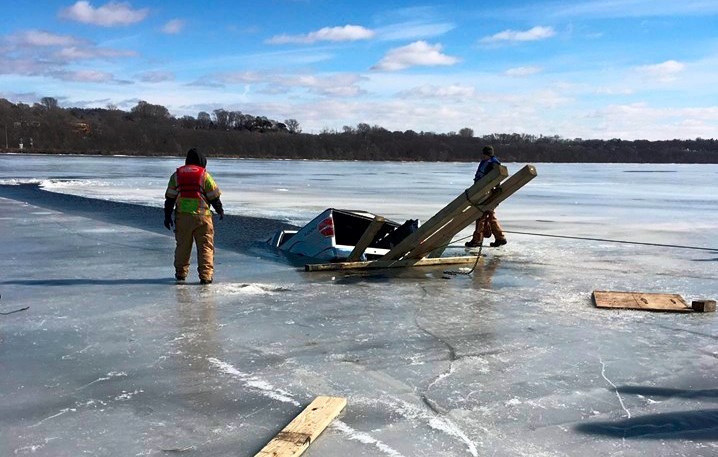 The Milwaukee Journal Sentinel's Jim Stingl takes a deep dive — sorry — into the No. 1 growth business in Wisconsin (and we, presume, Minnesota): Pulling cars and trucks out of lakes.
And the vehicles seem to be biting thanks to the bait being used: warmer temperatures and drivers who aren't all that bright at times.
"They get frantic and I'm sure they feel a little bit of stupidity there," Don Herman, owner of Oshkosh's Sunk? Dive and Ice Service, told Stingl.
"I always tell them, 'We'll get at it. Your vehicle is in the safest place it's ever been since it was made. Nobody is going to steal it. Wet is wet. Once it's in, it's wet and it's not going to get any wetter,' " he said.
A sunken vehicle is nothing more than expensive chum. It's never going to work again.
It costs $3,000 to $4,000 to pull a car out of the water but it's covered by insurance. Maybe that's why people don't seem to mind taking a chance.
He'll fish out anything that can sink.
"We pulled out a semi that went off Highway 41. We pulled out a track hoe", he said. "I pulled out a vehicle one time that had only 17 miles on it. Still had the sticker in the window."
But Herman says social media is really hurting his business. When there's a bad spot on the lake, people post it on Facebook and, apparently, potential business avoids it.
He should move to Minnesota.
From the archive: Photos: How a pro pulls a pickup out of a lake (NewsCut)