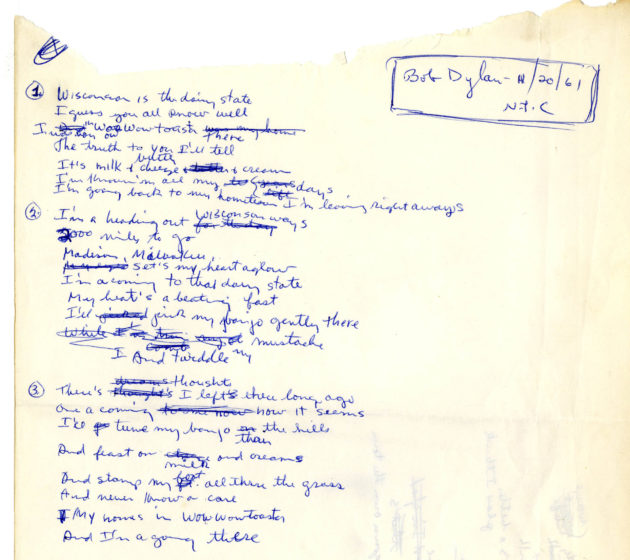 Can Bob Dylan really be claimed as "one of us" if he once penned a tribute song to Wisconsin?
Dylan was 20 years old when he penned the song, but never gave it a title.
The song is full of cheesy love, including a reference to "Wow Wow Toaster," which stumped the people at the auction house that puts the hand-penned song up for auction starting Thursday, Madison.com reports.
It was, apparently, a reference to the Milwaukee suburb of Wauwatosa.
"It's in pretty good condition," Michael Kirk, an auction manager, tells the paper. "I'm a music fan, and there's a sort of energy when you hold a piece like this. It's powerful to hold."
Bidding starts at $30,000.
You'll have to come up with your own music to go with it.
(via Madison.com)

1. Wisconson is the dairy state
I guess you all know well
I was in Wow Wow Toaster there
The truth to you I'll tell
It's milk & cheese & cream
I've known 'em all my days
I'm going back to my hometown I'm leaving right aways

2. I'm a heading out Wisconson ways
2000 miles to go
Madison, Milwakee set's my heart aglow
I'm a coming to that dairy state
My heart's a beating fast
I'll jerk my banjo gently there
And twiddle my mustache

3. There's thoughts I left there long ago
One a coming now it seems
I'll tune my banjo than the hills
And feast on milk and cream
And stamp my foot all thru the grass
And never know a care
My homes in Wow Wow Toaster
And I'm a going there"

"1. These people with you city ways
Are driving me insane to drink
My home's in Wisconson it's a better place I think
I've been in California
My home's in Wisconson
And I"m gonna own the town"