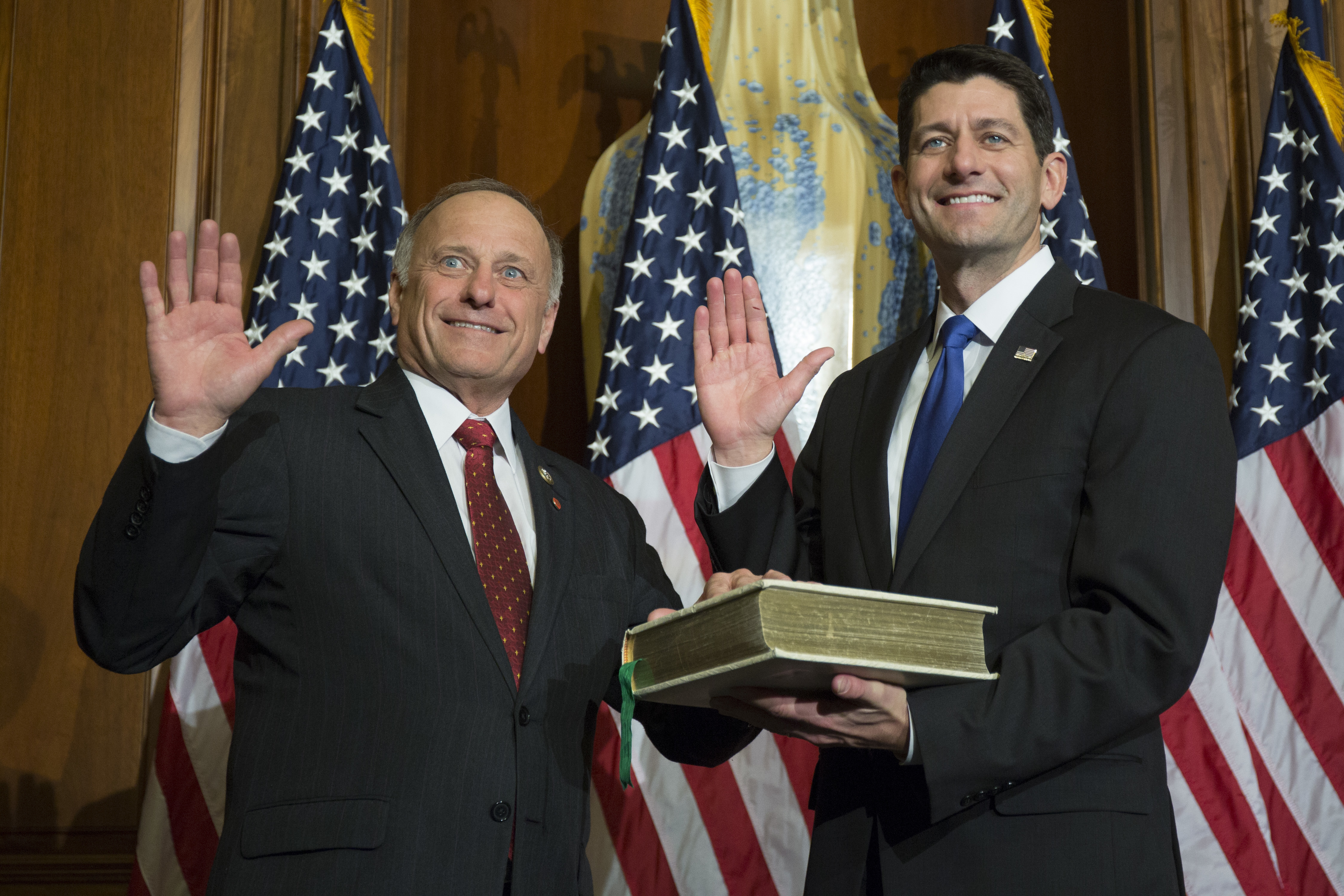 Iowa Republican U.S. House Rep. Steve King isn't a newcomer to racist and bigoted comments. Yet he won his last election with 61 percent of the vote.
"It's not that King has changed; it's that the context has," The Atlantic's David Graham writes today.
So it's unlikely the Des Moines Register editorial board is going to get its way, suggesting it's time for King to go. King is the face of the people of Iowa's 4th District. They knew what they were voting for.
King's latest transgression is a not-veiled-at-all assertion on Twitter that it's time for white people to start procreating to keep the people of color from destroying our civilization.
Wilders understands that culture and demographics are our destiny. We can't restore our civilization with somebody else's babies. https://t.co/4nxLipafWO

— Steve King (@SteveKingIA) March 12, 2017
"Allow me to translate that from hate to English," Chicago Tribune columnist Rex Huppke volunteered yesterday. "'Somebody else's babies' means Muslim babies. 'Our civilization' means white Christian civilization. 'Restore' implies that said civilization has already been destroyed by the baby-having Muslims. And 'our destiny' is just some generic white nationalist blah-blah."
King doubled down on his tweet under the protective cover of talk show hosts who are emboldened by the increasing popularity of their message.
"You cannot rebuild your civilization with somebody else's babies. You've got to keep your birth rate up, and that you need to teach your children your values," King told CNN yesterday."In doing so, you can grow your population, you can strengthen your culture, and you can strengthen your way of life."
A few Republicans, including speaker Paul Ryan, rebuked King.
In its editorial today, the Des Moines Register says words aren't good enough. King should go.
King's words are predictable, but they carry weight only because he is a congressman. And he's a congressman because, after Republican Party leaders repeatedly denounce his words in an attempt to claim the moral high ground, they then wallow in the mud by supporting King's bids for re-election.

Reynolds, our governor-in-waiting, endorsed King in the 2016 primary, calling him an "effective advocate for his district and for Iowans." King also was endorsed by Sen. Joni Ernst, who said King "stands strong for life and liberty." Sen. Charles Grassley and Iowa Agriculture Secretary Bill Northey also endorsed King in 2016.

If King's world view truly doesn't match that of the Republican Party, then party leaders at both the state and national level need to stand together in supporting an opposing candidate in the 2018 Republican primary. Given King's longstanding record as one of the least effective members of Congress, the GOP should have no difficulty finding a more thoughtful and qualified individual to represent the people of Iowa's 4th District.

The only question is whether these party leaders have the courage of their alleged convictions.
Related: Steve King, Hurling Insults at Immigrants, Is Rebuked by His Own Party (New York Times)