[This post has been updated to add NPR reaction]
Jacqui Helbert, 32, was fired by the University of Tennessee at Chattanooga, which owns WUTC, the NPR affiliate, after local politicians complained about her coverage of a group of high school students who lobbied against a bill forcing Tennessee students to use restrooms and locker rooms matching the sex listed on their birth certificates.
The coverage was accurate, but lawmakers objected that she didn't identify herself as a radio reporter during their meetings with students, and they say they wouldn't have said what they said if they'd known a journalist was present.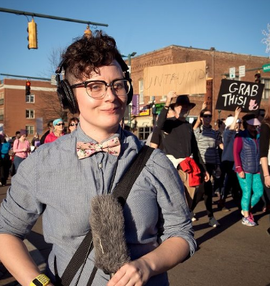 This picture is what a typical radio reporter looks like when covering a story. Headphones. Tape recorder. Big giant fluffy windscreen on the microphone. Press credentials. Plus, during the meetings, she took pictures.
"It was glaringly obvious who I was," Helbert tells the Chattanooga Times Free Press.
In her story, she noted that one of the state senators asked the students how they define transgender. "Is it how I feel on Monday? I feel different on Tuesday? Wednesday I might feel like a dog," Sen. Mike Bell said.
The meeting ended after the comments caused some of the students to begin crying, according to Helbert's story.
The politicians complained, the reporter was fired, and the story was scrubbed from the station website (but nothing is ever deleted on the Internet).
The station said she didn't properly identify herself as a journalist.
"If the politicians can threaten to withhold money from the University and control the reporters, it totally discounts having (the) press," Helbert tells CBS News.
On Friday, the station defended its decision in a Facebook post.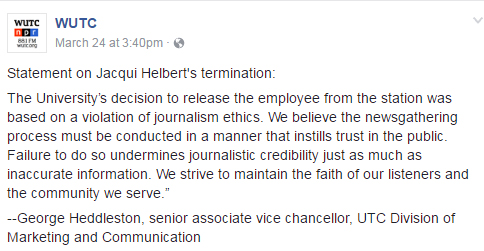 The listeners weren't buying it.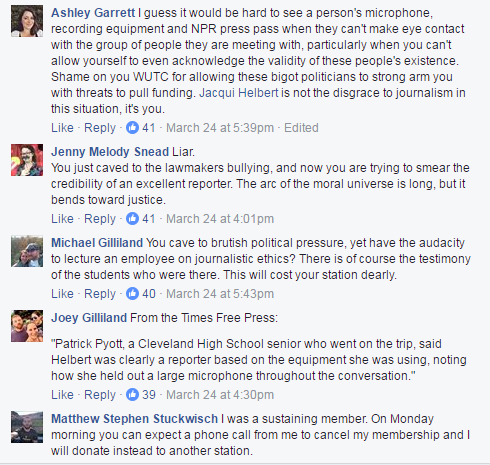 "We had no problem with the story she did," George Heddleston, the university's chancellor for marketing and communications tells Nashville Scene.
"Even though she had a microphone clearly visible, it's clearly an ethical violation," Thom Storey, a Belmont University professor of journalism, tells Nashville Scene. "That's one of the things that I stress in my classes — always make it very clear who you are and what you are there for."
"We still need to get people's verbal consent before interviewing them, and they need to be explicitly told they're being recorded for radio," news director Mike Miller wrote in an email to the reporter before her firing. "We must always do that. Interview subjects should never be surprised to find their voices in a radio story, and we can't assume that our mics or our badges are sufficient notice. We need to identify ourselves by name, media outlet & purpose & get verbal consent before recording. … You're doing a great job, and I'm not criticizing you. This is simply a matter of basic ethics & policy."
The NPR ethics policy, which Miller relayed to the reporter, urges reporters to identify themselves:
As the expression says, "rules are meant to be broken." But only highly unusual and extremely important situations would compel us to be less than open. Our foreign correspondents are most likely to confront such issues.

There could be a situation — perhaps in a war zone — where an NPR journalist feels endangered and decides that in order to get to safety s/he would be better off not letting others know s/he is a journalist. And that experience might turn into a first-person account of what the flight to safety was like. But we would not use it as an excuse to report information that otherwise violates our standards on openness.

If a repressive regime is arresting reporters and telling citizens not to speak with journalists, the only way to have conversations with people might be to keep our identities under wraps. We do not put anyone in danger, however, with our reporting on such conversations.

And if a repressive government is not allowing reporters inside its borders, we might not declare on our visa applications that we're journalists. Such decisions need to be discussed in advance. Senior news management must be included in the conversations.

Other situations in foreign settings might require some deviation from our guidelines on openness. We trust our correspondents to make good decisions, to consult with their editors and to be transparent with listeners and readers about their work. We also talk about foreseeable problems — such as corrupt border guards who demand "tips" — before we venture out and work through how we will respond.

Domestically, there could conceivably be a story that's so important we might consider the use of a hidden microphone because we exhausted all other ways to get the information. But only the rarest of circumstances might merit that decision. Some of the questions we would ask include:

Is the story of profound importance?
Are lives at stake?
Can the information be obtained any other way?
Would the story irrevocably suffer without the information?
We would only proceed with the approval of top NPR editors and after consultation with NPR's legal department. The subjects of any criticism stemming from the material would be given a chance to respond. And when reporting on what we discover, we would fully disclose our methods to readers and listeners.

If we ever do consider taking the highly unusual step of recording an interview without the knowledge of one or more party, we follow the applicable state and/or local laws about the taping of conversations. A resource our legal team uses to determine which laws apply is a chart called "A Practical Guide to Taping Phone Calls and In-Person Conversations in the 50 States and D.C.," prepared by the Reporters Committee for Freedom of the Press. Again, our legal team should be consulted on any decision to act on this information.

But rather than focusing on theoretical exceptions, the point to remember is this: We do not deceive and we do our work in the open.
Bob Garfield, who hosts public radio's On the Media, says the gear she was wearing alone constituted identification.
She was reportedly bedecked in full radio-journo gear and was wearing a credential. If so, this firing is baloney.

— Bob Garfield (@Bobosphere) March 27, 2017
A pic of me at the Capitol with my press pass & gear cartoonishly visible has been published. Now what Sen Brooks?https://t.co/6yzzutwBwC

— Jacqui Helbert (@jacquihelbert) March 27, 2017
[Update 3/28] – NPR's senior vice president of news and head of ethics have released the following statement:
The University of Tennessee Chattanooga has said the decision to terminate the employment of reporter Jacqui Helbert was made by university officials, not the news editors at WUTC. The station's news staff says the decision to remove from WUTC's website the story that Helbert had done about meetings held by state legislators with students from a Gay-Straight Alliance Club was also made by university officials, not WUTC's editors.

Serious questions have been raised about whether university officials were pressured to take those actions by state lawmakers — who could cut state funding to the school and WUTC.

In both cases we at NPR believe the decisions should have been left to the journalists in charge. Taking the decisions about enforcing ethics out of their hands did more to undermine the station's credibility than the original infraction.

This chain of events underscores why it is critical that newsrooms such as that at WUTC not be subject to pressure from the institutions that hold their licenses, the sponsors who give them financial support or the politicians who sometimes don't like the stories they hear or read.

To be sure, Helbert should have said explicitly to the legislators that she was there to report a story for WUTC. That said, the fact that she was wearing press credentials and was holding a 14-inch long microphone that she moved around as people spoke would be obvious signs to any public officials that they were being recorded — most likely for some type of public posting.

Her mistake was not, her editors say, a firing offense. Instead, it was a learning moment for a new reporter and she was counseled about her mistake. Her editors did not view the story as fatally flawed — she had not hidden her equipment or misled anyone. They say they would not have removed it from WUTC's website if they had not been ordered to do so. Removing a story – except in the most extreme circumstances — is a breach of the standards practiced by NPR and other credible news organizations.

We at NPR agree with the editors' thinking. They should have been allowed to handle the situation as they – the journalists – felt was right. We strongly urge the university and WUTC to reach an agreement that ensures the station's editorial independence in the future.