Perhaps the Norwegian broadcaster NRK has an answer to the declining quality of comments on the Internet.
The Independent reports the broadcaster's website will now ask a series of questions after a story to determine whether the would-be commenter actually read it, or even understood it.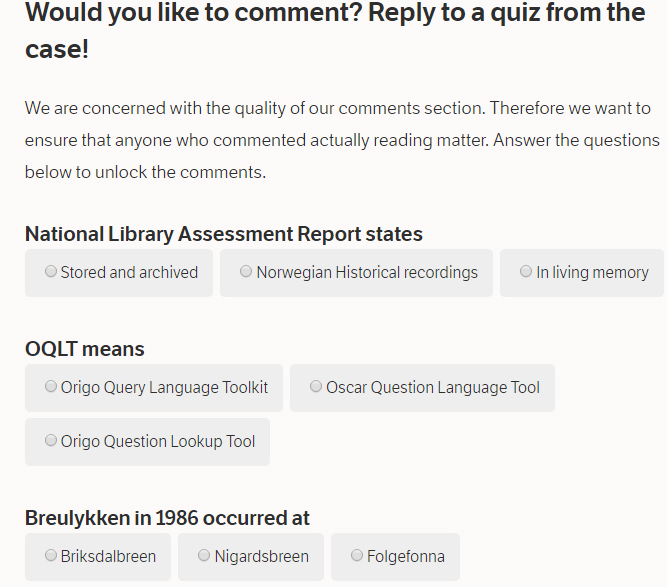 "We thought we should do our part to try and make sure that people are on the same page before they comment," journalist Ståle Grut told Nieman Lab. If everyone can agree that this is what the article says, then they have a much better basis for commenting on it."
The broadcaster says it hopes the quiz will also give people the opportunity to "calm down" before hitting the comments section.
"If you spend 15 seconds on it, those are maybe 15 seconds that take the edge off the rant mode when people are commenting," said Marius Arnesen, editor of NKRbeta.
Nieman Lab said most of the problem occurs when stories with comments are placed on the broadcaster's home page, bringing in a group of angry people who aren't regulars.
They settled on the quiz function because they thought it would ensure that commenters had at least read the story and had a common set of facts on which to base the discussion. NRKbeta also thought that the quiz functionality might help keep the discussions on topic.

"We're trying to establish a common ground for the debate," Arnesen said. "If you're going to debate something, it's important to know what's in the article and what's not in the article. [Otherwise], people just rant."

NRKbeta developer Henrik Lied built the tool as a WordPress plugin, with the questions randomized for each user.

Grut acknowledged that the comment quiz was fairly easy to get around for people with technological experience. One of NRKbeta's readers even posted a script to show others how to get around the quiz. Grut said the site had to tell them: "Guys, this is not for you. We know it's easy to modify some code in your inspector…it's for the people who approach our articles with the intent of just ranting before they even look at the article."
Brilliant!
(h/t: John Olson)