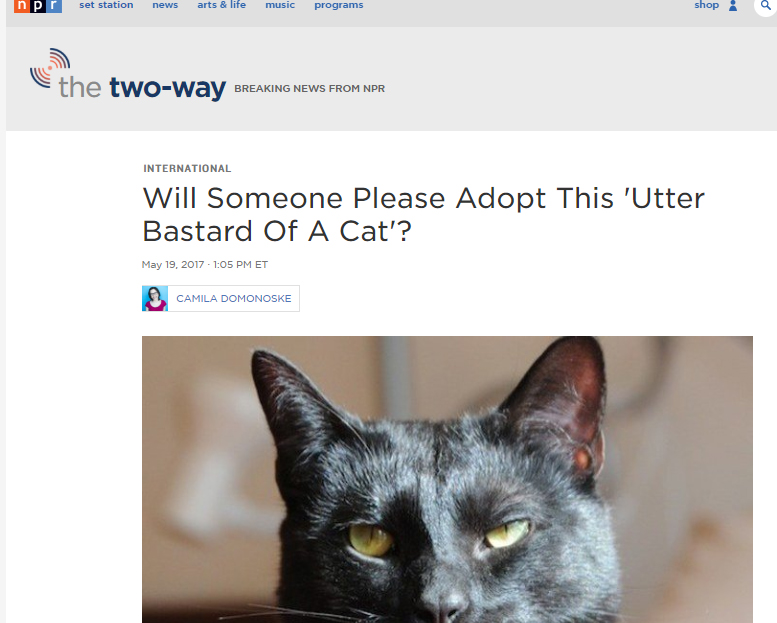 We don't like to see news blogs disappear, but it's an inescapable fact that the days are numbered for them in core media.
Mainstream news organizations have had a very difficult time squaring the more personal nature of blogs, their willingness to amplify the work of newsroom competitors, and the reader community they create with the traditional practices of newsrooms.
So we're sad to see NPR's Two-Way go, even if it was misnamed, as it turns out.
All but a few NPR blogs are gone now, and the Two-Way was one of the last.
It often had difficulty deciding whether it was going to be a blog, with deep and extensive links to news stories, or just a convenient publishing platform to get breaking news to an audience until their digital counterparts could post radio stories.
And when NPR decided it was futile giving readers a platform for their own comments, it lost the "two" part of Two-Way.
"Most people looking for the news from NPR don't come here, to the Two-Way's feed," Camila Domonoske in the blog's final post late last night.
That's about a sad a sentence as a news blogger can read because Domonoske goes on to note that when the blog started it was more than just the big news.
We were there when the world's cutest earless rabbit was killed by a photographer's ill-fated misstep. We offered directions when a cargo jet landed at the wrong airport. We gazed at mystery houses. We picked apart what went wrong at the Fyre Festival, the music festival that wasn't. We shared the news when an ancient tomb was replaced with a picnic table. We reluctantly explained what was up with Pepe the Frog.

Remember that time NASCAR driver Kurt Busch testified that his ex-girlfriend was an assassin, which she didn't deny? That time NASA sought haiku for Mars?

The giant Styrofoam head that washed ashore on the Hudson River? Or that weird thing with the clowns? Or the three-part saga of Jeremy, the loveless, left-twisting snail?

We've never just been straight news stories. Mark observed Father's Day through a poignant essay with an audio extra. Frank discussed photojournalism ethics, offering a glimpse inside NPR's newsroom conversations. Bill Chappell, reporting from the Rio Olympics, escaped Ryan Lochte and reflected on the beauty of Olympic race walking.

As the Powerball cash ballooned, we pondered what that kind of money could and couldn't buy. Howard Berkes brought you the story of the Challenger engineer who still blamed himself … and of how your letters helped him shed his guilt. Korva Coleman pondered a debate over media coverage of women in tech, without offering easy answers.

We've never been just the latest updates. We took our time and dived deep — into the driving life and death of Philando Castile, the challenges facing American citizens who are deported, the stories of Harvey evacuees at the Houston convention center. We went backstage for the circus before Ringling Bros. closed, and went to Puerto Rico's landfills to cover the post-Maria trash disaster. We captured the memories and meaning that can be hidden in a family heirloom.
In a time of declining budgets, increasing demands for audience shares and page views, and the never-ending quest for the next bright shiny object, it can be a tough argument that the news cycle has a place for giant Styrofoam heads and left-twisting snails.
And the news execs insist that with the demise of its blogs, the content will still find its way into traditional NPR fare. Maybe, but cuts usually result in cuts, claims to the contrary notwithstanding.
More than anything else, the news blogs represented a potential to not only change the way stories can be told and illuminate the stories that are undertold, they represented the chance to change the relationship between the audience and newsrooms where the first person singular is treated like leprosy.
It was a mistake, I think, that NPR reporters — and even the people who wrote the blog — didn't engage with the readers during the time when it featured a comment section. Doing so might have prevented the comments from becoming a haven for fools running amok.
It speaks to a bigger issue of journalists being afraid to publicly observe and opine based on their expertise. The at-arm's-length relationship between the public and the people in newsrooms — especially in public radio — is ultimately limiting and self defeating.
But it also requires journalists and readers to trust one another and history proves that doing so can be fatal. One minute of Twitter can tell you that.
But NPR took a shot and created a space and if it didn't have the audience the news execs felt it needed to be sustained, perhaps that's on the audience. Still, like public comments, I suspect it will come to be viewed as an opportunity missed.