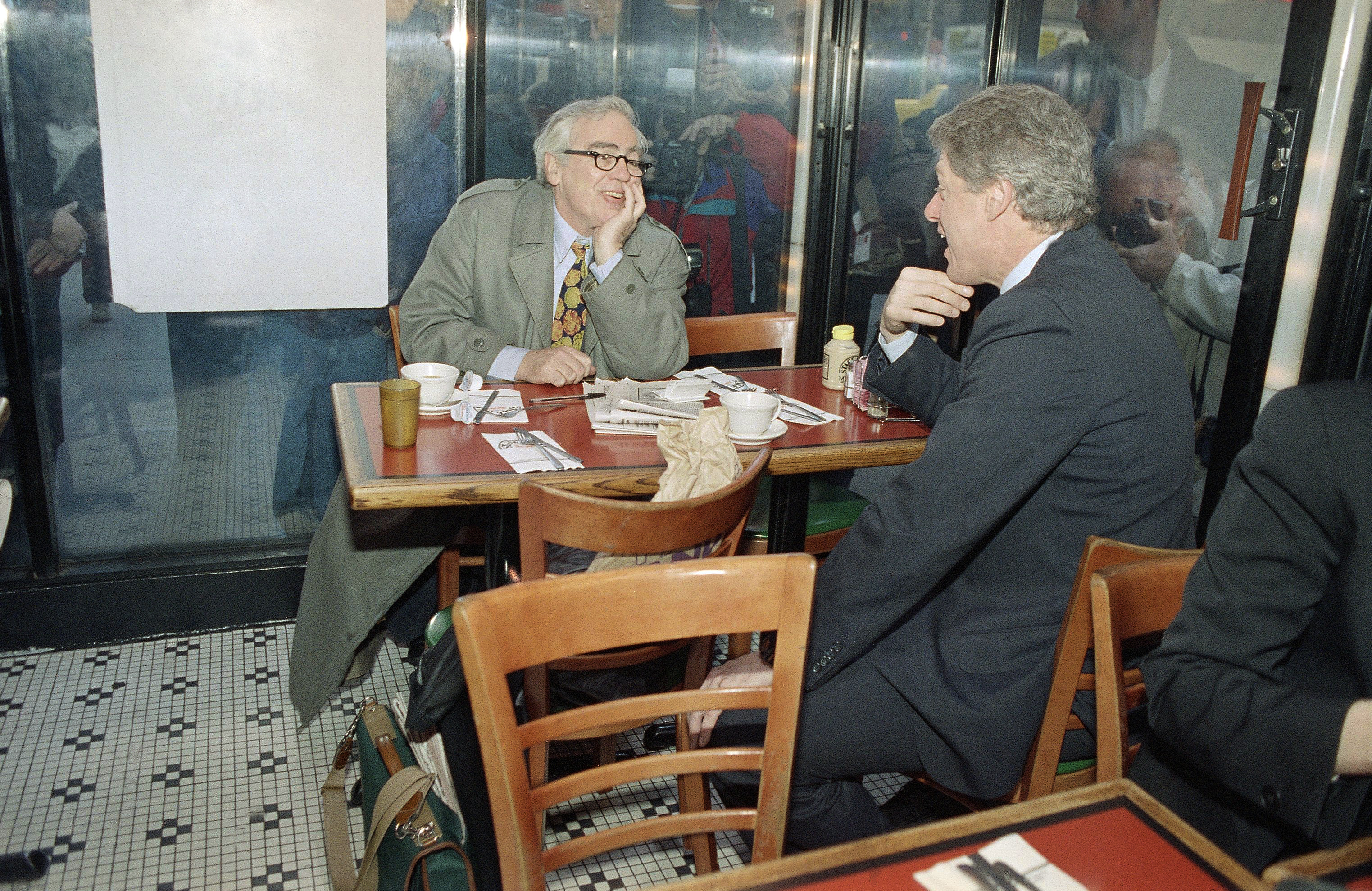 Jimmy Breslin, perhaps the most famous of the New York tabloid columnists, died on Sunday. He was 88. A legend.
The nation's newspapers don't do legends anymore.
He wore a trench coat. Newspaper columnists don't wear trench coats anymore.
"I'm the best person ever to have a column in this business," he once said. "There's never been anybody in my league."
He reported from Vietnam. He was five feet away from Bobby Kennedy when he was assassinated, and he once wrote a column about the guy who dug President Kennedy's grave for $3 an hour.
Pollard got behind the wheel of a machine called a reverse hoe. Gravedigging is not done with men and shovels at Arlington. The reverse hoe is a green machine with a yellow bucket that scoops the earth toward the operator, not away from it as a crane does.

At the bottom of the hill in front of the Tomb of the Unknown Soldier, Pollard started the digging.

Leaves covered the grass. When the yellow teeth of the reverse hoe first bit into the ground, the leaves made a threshing sound which could be heard above the motor of the machine. When the bucket came up with its first scoop of dirt, Metzler, the cemetery superintendent, walked over and looked at it.

"That's nice soil," Metzler said. "I'd like to save a little of it," Pollard said. "The machine made some tracks in the grass over here and I'd like to sort of fill them in and get some good grass growing there, I'd like to have everything, you know, nice."
Nice.
This is a lost art in a dying business.
"Every city had somebody who was at least a Breslin wannabe," former editor and columnist Jonathan Alter tells the NY Times' Jim Rutenberg today, "so as a result of that we got a lot of gritty columns that spoke for the average person and connected, spoke to the community. And we've really lost that all over the country."
You can blame the Internet for their demise, Rutenberg writes.
Print advertising, the ballast of newspapers for so many decades, continues to move online, eroding newsroom budgets. These days, there's a steady stream of news about some newspaper reducing the number of days it prints or shedding employees.

And the number of columnists who lost their jobs in the churn keeps rising — like the nearly four-decade veteran of The Journal News of White Plains, Phil Reisman, who was sent packing in October, or the editorial writer Yael T. Abouhalkah, who worked for nearly four decades for The Kansas City Star, who was laid off in September.

The end of Mr. Abouhalkah's run at The Star must have come as a relief to those he regularly pursued, like Kansas' governor, Sam D. Brownback, and its secretary of state, Kris Kobach.

Getting to a place where you can write an authoritative, hard-charging column that shakes up your city or town takes what Mr. Browne of The Daily News described as "maturity and seasoning" — real reporting chops that get the goods and deliver them with impact.
Breslin was the greatest newspaper columnist ever, writes the Boston Globe's Kevin Cullen.
He was smart and fearless and ferocious and he always knew which side to be on, and it was always the side of the poor and the powerless and people who got paid by the hour or didn't get paid at all.
That was the side with whom people could identify. Breslin didn't need to learn what it was like to be poor.
Gail Collins, the New York Times columnist, recalled the day that Breslin and his Daily News editor Sharon Rosenhause were screaming at each other in the newsroom. When Breslin won the Pulitzer Prize in 1986, he stood up in the newsroom and announced, "This award actually belongs to Sharon Rosenhause, but I'm not speaking to her."

Michael Daly, a columnist at the Daily News, remembered how Breslin took a taxi to cover the riots in the Crown Heights section of Brooklyn in 1991. Breslin never learned to drive. "Why would I?" he used to say. "I can get a taxi anywhere." The taxi got torched, Breslin got beat up, and he wrote columns sympathetic to the people of Crown Heights, because he knew what it was like to be poor and ignored.

Dan Barry, a columnist at The Times who grew up reading and admiring Breslin, told of how when he was diagnosed with cancer, Breslin, who barely knew him, showed up at his side and walked with him across Manhattan and into Sloan-Kettering.

"He gave me the gift of distraction," Dan Barry said.

And that was Breslin, to his core. He distracted us, from apathy. He made us care.
Caring. So old school.