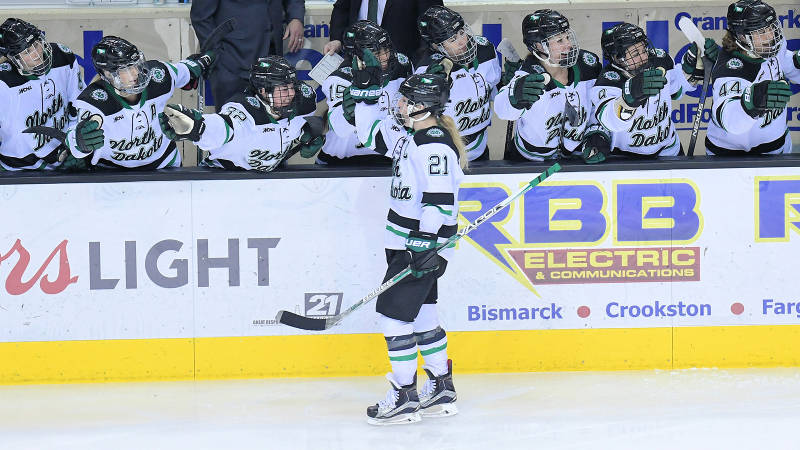 Hockey is pretty big in Grand Forks. But not for women. Not anymore.
The University of North Dakota sent eight players to the Olympics in women's hockey. Five more players are heading for the 2017 IIHF Women's World Championship. Ten might play in next February's Olympics.
But, no woman will ever again play hockey in Grand Forks.
Sitting in a room with all my younger crying teammates and can't stand that UND is doing this to them… we are a family!

— Jordan Leigh Hampton (@jhamps7) March 29, 2017
Headline in the Grand Forks Herald, yet we are all still sitting here waiting to be told that it is official. Awesome job @UNDsports https://t.co/URTrb5rHsr

— Amy Menke (@AmyMenke) March 29, 2017
The school is shutting the program down. It's one of the most successful in the country.
"A decision has been reached that allows us to address the requested reductions in budget, conference sports sponsorship requirements, Title IX compliance and a desire to raise our level of competitiveness across the board," athletics director Brian Faison said in a statement.
"UND will honor all athletics scholarships for these discontinued sports at their present equivalencies for returning student-athletes," he said, adding the school will assist student-athletes who want to transfer.
The players didn't learn of the news from Faison, however.
Former UND and Olympic star Jocelyne Nicole Lamoureux-Davidson, who played one season for the University of Minnesota and three for the University of North Dakota, blasted the decision, and the leaks to the media before the team was told.
UND sports shame on you for not having the decency to communicate with the staff and players before anyone else! Can't delete this one!

— Jocelyne Lamoureux-D (@JocelyneUSA17) March 29, 2017
Glad to see @UNDsports leaks publicly they are cutting a team before informing the players and staff. #classymove

— Monique Lamoureux-M (@moniquelam7) March 29, 2017
Lamoureux-Davidson, and her twin sister, Monique, are credited with creating a powerhouse program at UND, when Jocelyne transferred from Minnesota. Other talented female players soon followed.
North Dakota went 16-16-6 in the most recent season, losing to Wisconsin in the Final Face-Off semifinals, 2-to-1.
The decision shakes the very foundation of women's hockey in the United States. Katie Million, commissioner of the WCHA, called the decision "excrutiatingly sad," and said there's "no denying the impact of losing a program that has produced Olympians, advanced to NCAA tournaments, and is a perennial fixture in the national rankings."
UND's athletics department has been in a spiral since state funding was cut.
UND President Mark Kennedy, a former Minnesota congressman, ordered $1.3 million to be cut from the athletics budget. That's slightly less than the total budget for the women's hockey program.
"It provides for investing in championship teams in a balanced manner," Kennedy said in a statement.
Today's announcement comes a day after the U.S. women's national hockey team and USA Hockey agreed to a new contract on Tuesday to avert a players boycott of the World Championships that begin on Friday. The players protested inequitable treatment of the women's programs.
The Grand Forks Herald says the men's and women's swimming programs will also be eliminated.
A year ago, UND shuttered its baseball and men's golf program, but reinstated the golf program when "external funding" was found.
The school's remaining women's sports lineup includes basketball, cross country, golf, soccer, softball, tennis, track and field, and volleyball.