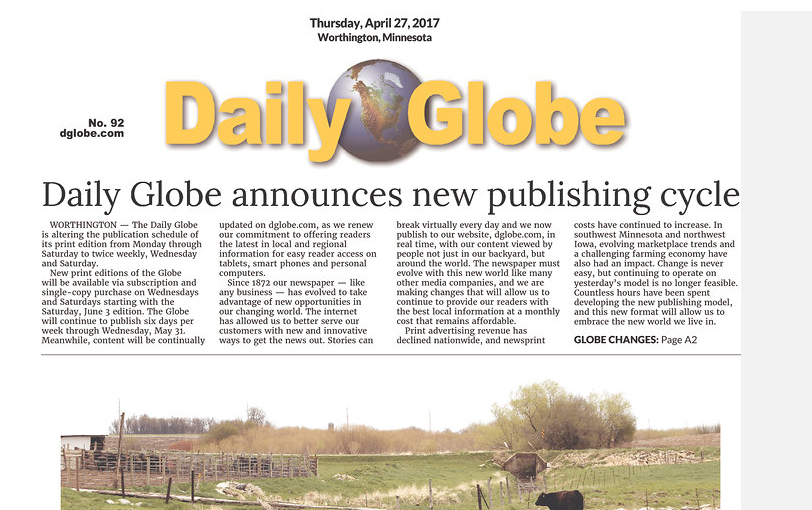 Since 1872, the Worthington Daily Globe has been a daily newspaper, except for Sunday.
Those days are over.
The paper's owner, Forum Communications, announced today the southwestern Minnesota newspaper will now only publish two days a week — Wednesday and Saturday.
In its announcement today, the Daily Globe says its weekday "e-edition" will include more national news and features from USA Today.
Since 1872 our newspaper — like any business — has evolved to take advantage of new opportunities in our changing world. The internet has allowed us to better serve our customers with new and innovative ways to get the news out.

Stories can break virtually every day and we now publish to our website, dglobe.com, in real time, with our content viewed by people not just in our backyard, but around the world. The newspaper must evolve with this new world like many other media companies, and we are making changes that will allow us to continue to provide our readers with the best local information at a monthly cost that remains affordable.

Print advertising revenue has declined nationwide, and newsprint costs have continued to increase. In southwest Minnesota and northwest Iowa, evolving marketplace trends and a challenging farming economy have also had an impact.

Change is never easy, but continuing to operate on yesterday's model is no longer feasible. Countless hours have been spent developing the new publishing model, and this new format will allow us to embrace the new world we live in. Current prepaid subscribers monies will be adjusted from the six-day-per-week newspaper to the two-day-per-week newspaper without any loss of monies.

In conjunction with the publication changes, we'll be offering a new service to our readers through our e-edition. A contract with USA Today will allow us to provide a variety of national, financial and lifestyle reporting — content that will be featured in our e-edition on a daily basis.

We believe these changes in publishing and delivery will offer the best opportunity to serve our customers' needs. We've heard the complaints about the shrinking size of our daily edition. Rather than publish six thinner editions Monday through Saturday, our plan is to give our readers two healthy print editions filled with interesting stories and photos, which also translates into more effective messages for our advertisers and daily news in the e-edition and at dglobe.com.

We know there's a niche for a strong source for local news in our region, and that's what we will remain dedicated to do. We're also continually expanding with new reporting features. In fact, the Globe recently launched a new local video feature called "The Drill" highlighting an area student-athlete each week; it can be found at dglobe.com/the-drill. "The Drill" is part of several planned new features that will showcase our communities and their people.

First and foremost, we remain your newspaper, and we invite you to contact us with any feedback or suggestions on what you'd like to see in print and online. We thank you for your continued readership over the years and into the future.
Forum Communications weekly newspapers have also taken big hits recently. After the newspapers in its Rivertown Media subsidiary combined operations last year in Woodbury, Hastings, Red Wing, Minn., and River Falls, Wis. — several veteran reporters were let go this year.