It's not at all surprising that emails obtained after a university fired a reporter revealed that an "ethical lapse" of not identifying herself to politicians who were embarrassed by her accurate reporting wasn't really the sole reason she lost her job.
Government funding of public media — and the university's concern that reporting unfavorable to politicians might jeopardize the cash — played a big part.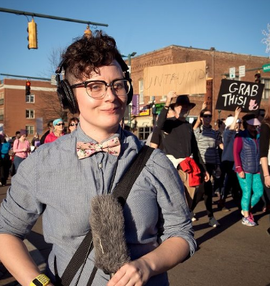 This is the case of Jacqui Helbert, 32, who was fired by the University of Tennessee at Chattanooga, which owns WUTC, the NPR affiliate.
Lawmakers who met with students opposed to a bathroom bill said they wouldn't have said what they said during the meeting if they'd known Helbert — standing with headphones, a press badge, and a large microphone pointed at them — was a journalist.
Right.
Now, the Chattanooga Times Free Press has uncovered the truth. The university's chancellor was concerned the politicians would cut state funding to the station if he didn't fire the reporter.
"The failure of a WUTC reporter to readily identify herself as such, to state her affiliation with the radio station, and to acknowledge that she was working for WUTC to report on a high school group's legislative day on Capitol Hill is the source of concerns on which the decision is based," the chancellor said in a public statement after the firing.
The emails tell a different story.
"The potential repercussions for the state representative and UTC are HUGE," UTC Chancellor Steve Angle wrote in an email on March 20. "We could easily lose all funding we are providing to WUTC."
The Associated Press, which also received the emails, said they show the extent to which public funding was an issue.
George Heddleston, the university's senior associate vice chancellor of marketing and communications, said in an email to Angle that he worried about the situation becoming fodder in the national debate over President Donald Trump's budget decisions.

"I remind you that Trump is talking about pulling funds for NPR stations, and somehow I suppose Jacqui's firing could impact that messy business," he said.

Heddleston suggested that Helbert shouldn't have been allowed to cover the event involving high school students at the state Capitol in the first place, and that her conduct was "completely unethical." He said he was having his office draft a new ethical code of conduct for the news staff at WUTC.

The chancellor ultimately decided to fire the reporter and issue a letter of reprimand to her supervisor, news director Michael Miller. While Angle acknowledged that Helbert might take her termination public, he warned that Miller "needs to keep quiet and toe the line on this."

"We cannot control her, but he should not cause problems," he wrote.
The revelation reveals a problem with the structure of some public radio stations. They're often owned by public colleges and universities that can't be isolated from public funding debates.
The danger, Poynter's ethicist Indira A.R. Lakshmanan points out today, is institutions influence newsrooms to keep their political benefactors happy.
J.J. Yore, the general manager of Washington, D.C.'s NPR affiliate WAMU, said it's "disturbing and disappointing to see this kind of thing happening in 2017, when most universities understand the responsibility they have if they own a public service media company to ensure that entity has the most freedom possible in terms of its editorial decision-making."

"Your integrity if you're a news organization is your most valuable asset and anything that diminishes that or calls it into question is really destructive," Yore said. WAMU is licensed to American University, a private institution that doesn't depend on state funding. (Disclosure: I'm the backup host for "1A," a news program produced by WAMU and distributed by NPR).

"What happened there suggests a real misunderstanding of the role of a news organization and a university — and the interests of one in contrast to the other," Yore said.
Station and university officials said the story the reporter turned in wasn't an issue and was accurate. They deleted it from the station's website anyway.