Marty O'Connor's story is a familiar one. He was left a quadriplegic when he fell down the stairs in 2012.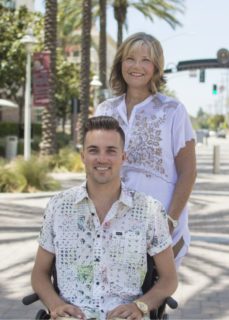 "After I got hurt, I didn't know which end was up," O'Connor said in a Chapman University blog post. "I didn't really have a direction. I was just dedicating myself to physical therapy five days a week.
Then he explored graduate school to try to give himself a mental challenge. And it worked. On Saturday, he received his MBA at commencement exercises.
His is a familiar story, so let's not talk about him.
Let's talk about his mother, Judy, a retired teacher who took on the roll of caregiver. She moved from Florida to California to be with her son.
She attended every course Marty took. She took the notes since he couldn't write or raise his hand.
"I'm a geek. I love being in school," she said. "I'm not going to lie. I've enjoyed every minute of it."
Still, it's a lot of work. So it was an appropriate gesture by the university on Saturday when the school gave her an honorary MBA.
Mom who went to every class with her quadriplegic son gets a graduation day surprise: Her own MBA. Story: https://t.co/jVnXp5XqGB pic.twitter.com/2lXdlFQOdE

— AP West Region (@APWestRegion) May 23, 2017
"I was just trying to stay in the background," she said.
It was her son's idea, CBS said. Video here. Scroll to 1:40:50.