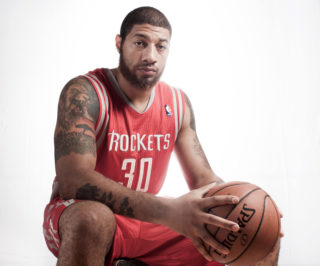 Royce White, Hopkins native and a former Mr. Basketball in Minnesota who was drafted in the first round of the NBA despite revealing mental health issues, flamed out in his chance at basketball stardom in the pro game. He and Kevin McHale, then the boss of the Houston Rockets, never saw eye to eye and White's anxiety issues kept him out of games. His NBA career consisted of 3 minutes of action.
Whatever happened to him?
Esquire reports he's now the biggest star in the fledgling National Basketball League of Canada, playing for the London Lightning.
"It's as if minor-league baseball and the NBA had a Canadian love child: a professional hometown sporting event," Esquire says of the atmosphere.
White's basketball skills have never been the issue. His mental health is.
During his rocky years in Houston, he and the league fought over the NBA's lack of attention to players' mental health.
"The NBA was put in a tough, tough spot," White said. "Not because mental health is a hard conversation, because it's not. Because they're a human commodity business and they always have to juggle human welfare vs. profit. That's not hard, depending on what your moral code is."
When he went public with his own problems, sportswriters opened up about theirs. Players? Not so much.
In Ontario, the same thing is happening with fans, Esquire says.
It's common for fans to come up to White after games and spill their stories to him about their own battles with mental health, or to send him messages through Twitter and Instagram. He tries his best to respond to people individually, whatever their demands are of his time. But he's the first to admit he's still trying to figure out a lot of it himself.
White, who says he'd probably be able to get an NBA gig for more money if it weren't for the league's mental health vacuum, says he likes London; It reminds him of St. Paul.
"It's not that I suffer from anxiety disorder and 'Woe is me," or 'Woe is the people who suffer from anxiety disorder or mental illness,'" White says. "Because the reality is that pretty much everybody suffers from mental illness in some capacity. So, really, woe is everybody."
(h/t: Tom Weber)