[Update 5/27 439pm] The Walker has announced the artwork will be dismantled.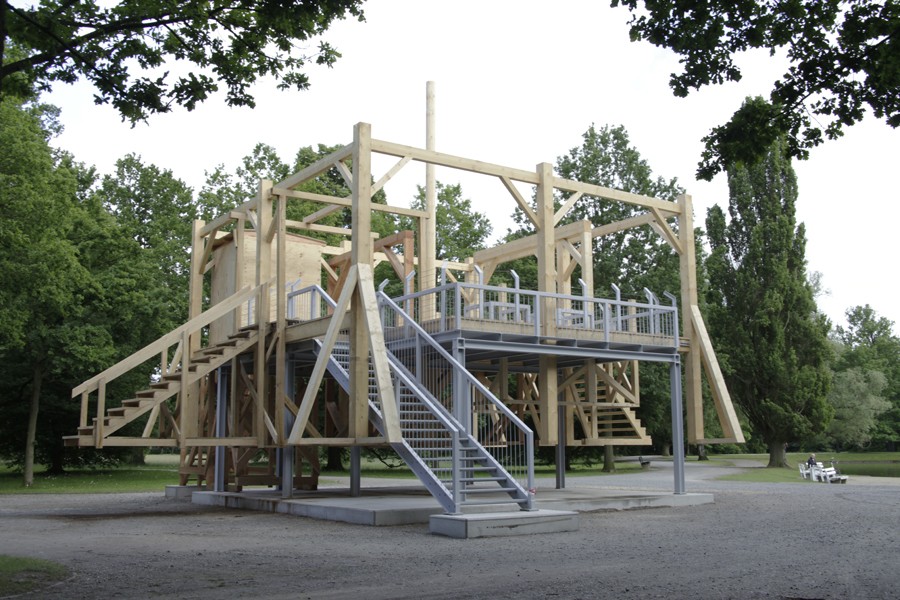 If art is occasionally meant to inflame, mission accomplished at the Walker Art Center where a new installation in the refurbished Sculpture Garden is the portrayal of gallows, one of which is inspired by the largest mass execution in U.S. history, the hanging of 38 Dakota Indians in 1862. Sam Durant's work is said to be about the history of the death penalty in the United States.
Durant, who was an artist-in-residence at the Walker in 2002 often uses Native American themes in his work.
"I would say that all of the Dakota War monuments were built for the white settlers," Durant said in an earlier interview with Heyoka Magazine in 2010.
An earlier work depicted 30 monuments of Native America massacres.
A previous sculpture of his at the Walker featured an upside-down bronze tree on a steel plate and animated by a soundscape created with students from Four Directions and Heart of the Earth charter schools in Minneapolis and pow-wow participants from the Little Earth housing community.
"By turning things upside down, I saw it as a kind of politicizing, a kind of acknowledgement of a world that, for Native Americans, is turned upside down," Durant said of his 2003 creation.
This latest one, however, has gotten significant criticism.
In an open letter on its blog today, the Walker's director, indicated she hopes the work will start a conversation about how the Walker can be more sensitive. But Walker director Olga Viso seemed to indicate it will stay.
Durant's sculpture raises complex questions about how contentious moments in history are remembered. It raises deeper questions still about how, why, by whom, and for whom. As an institution that champions the work of living artists, we also champion the freedom of expression extended to artists and audiences alike. We recognize, however, that the siting of Scaffold in our state, on a site that is only a short distance from Mankato, raises unique concerns. We recognize the decision to exhibit this work might cause some to question the Walker's sensitivity to Native audiences and audiences in Minnesota more familiar with this dark history.

As director of the Walker, I regret that I did not better anticipate how the work would be received in Minnesota, especially by Native audiences. I should have engaged leaders in the Dakota and broader Native communities in advance of the work's siting, and I apologize for any pain and disappointment that the sculpture might elicit. When I first encountered Scaffold in a sculpture park in Europe five years ago, I saw a potent artistic statement about the ethics of capital punishment. Most importantly, I recognized its capacity to address the buried histories of violence in this country, in particular raising needed awareness among white audiences. I knew this could be a difficult artwork on many levels. This is invariably connected to national issues still embedded in the psyche of this country and its violent, colonialist past.

Yet despite my and the Walker's earnest intent to raise understanding and increase awareness of this and other histories in our American democracy, the work remains problematic in our community in ways that we did not sufficiently anticipate or imagine. There is no doubt that what we perceived as a multifaceted argument about capital punishment on a national level affecting a variety of communities across the US may be read through a different lens here in Minnesota. We also acknowledge that the artist's intent to create a work meant "as a space of remembering" may be misread. Because the structure can serve as a gathering space, which allows visitors to explore it in un-ceremonial ways, we realize it requires heightened attention and education in all of our visitor orientation and interpretation.
Viso invited Native American leaders to help create a framework for the discussion she thinks Scaffold should inspire.
Initial reaction seems to indicate that may be an unrealistic expectation.
.@walkerartcenter TAKE IT DOWN. Immediately. This is horrific and more trauma inducing than you'll ever know. https://t.co/PLjgA8McN5

— Peggy Flanagan (@peggyflanagan) May 26, 2017