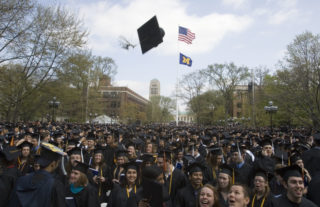 The University of Michigan has announced its offering free tuition to current or future in-state students from families making $65,000 a year or less (the state's median income). That's about a $60,000 gift over four years.
In this year's freshman class, 20 percent of the students come from families making less than $75,000.
Starting in January, the university will cover any gap between traditional financial aid and the cost of tuition at its Ann Arbor campus. Officials say it'll cost the university $12 to $15 million, the Detroit Free Press says.
Only one regent voted against the plan.
"There's still going to be many families, especially middle-class families, priced out of the University of Michigan," Andrea Fischer Newman said.
No sense trying to solve any of a problem, if you can't solve all of the problem?
When it comes to free college, Michigan gets it. In Kalamazoo, a benefactor gives free college to students graduating from the city's public schools. Detroit Promise provides free two-year community college tuition to city students, and free four-year tuition to students with a 3.0 grade point average or higher.
It's not a first for universities; Princeton, Harvard, Duke, for example, all provide free tuition for low-income students. But those are private schools.
And Minnesota is trying free tuition for students interested in pursuing in-demand careers. The Legislature rejected the idea of free community college tuition for everyone..
Michigan's plan, on the other hand, isn't restricting career choices
The news, coincidentally, comes the same day researchers at Duke released a study showing the impact of factory closings — Michigan has been particularly hard hit — on educational opportunity.
The researchers figured they'd find that in places hard hit by job losses, fewer young people would choose to go to college.
They found that a 7 percent loss of jobs in an area results in a 20 percent drop in college enrollment.
"Our thinking is a lot of it stems from the uncertainty generated by seeing these job losses in your community — youth and adults worrying, 'Is this going to happen to our family, [and] if it did, how would we get by,'" Duke professor Anna Gassman-Pines tells the Durham Herald Sun. "It's stressful to have that worry about what the future might hold, and it is, we believe, one of the key mechanisms."
Whether offering free tuition will entice more low-income students to Michigan is unknown. The Duke study suggested the drop in college enrollment after a family's job loss is not entirely about the loss of income.
But, if education really is the way to lift people out of poverty, is there a good reason not to try it?
Apparently there is.
The Minnesota College Affordability Act, unveiled in January, would have provided free tuition to the University of Minnesota and MnSCU institutions for students in families making less than $125,000 a year.
It was sent to a Senate committee where it never got a hearing went nowhere, according to the Legislature's bill tracker. A companion bill met the same fate in the Minnesota House.
[Update 6/19] – Statement from Matt Kramer, U of M, VP university relations:
We read with interest last week's article about the University of Michigan's belated entry into the world of improving access to low and middle income students from their state. But additional reporting would have shown that the University of Minnesota has, since 2007, provided similar levels of access for Minnesota students. We do so through the U's Promise Scholarship, which serves Minnesota students from families incomes up to $120,000.

Our commitment to ensuring the University is affordable for MN families spans more than decade, and this year alone the University of Minnesota served 13,900 students with the Promise Scholarship program. In fact, this program has provided support in excess of tuition for tens of thousands of U students. Remarkably, the University of Minnesota provides the lowest net price among four-year colleges in the state of Minnesota for families making less than $48,000.

Your readers deserve to know that the University of Minnesota cares about its students, too. In fact, the University has long had a strong commitment to access for Minnesotans.
Here's the details on the Promise Scholarship , which provides
* Eligible new freshmen will receive a guaranteed need-based scholarship, ranging from approximately $300 to $4,000 each year, for four years.
* Eligible new transfer students will receive a guaranteed, need-based scholarship, ranging from approximately $300 to $2,000 each year, for two years..