When Harrison Rund, then 20, of South St. Paul, was stopped for speeding by a Minnesota state trooper in 2014, the ensuing argument led the trooper to search his trunk, where he found marijuana.
That wasn't his biggest mistake, however.
He went home, started drinking, and then went on Twitter.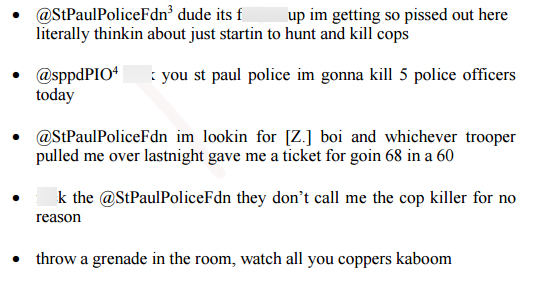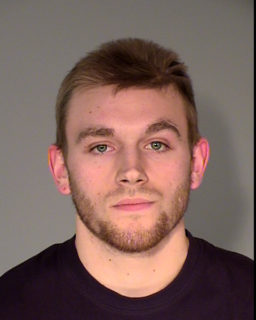 He was arrested the next morning, admitting he tweeted things he shouldn't have.
He wrote a letter of apology to the police and pleaded guilty to making terroristic threats and under the state's sentencing guidelines, he should've been sentenced to 12 months and one day in jail. His attorney asked for a 365 day sentence because that would convert his crime from a felony to a gross misdemeanor.
"I don't think you had the intent to do it," the judge said at sentencing. "You didn't have a gun. You weren't going out to try to search where they live. You weren't going to make a planned attack. You just wanted to send a tweet out to affect as many people as you can, and that worked."
"To give you a felony sentence . . . at your age . . . I don't feel in balance that that's in the best interests of society. We got too many people on probation [for] felonies already, and . . . I can accomplish much of the same thing on a . . . durational departure on a gross misdemeanor," Dakota County Judge Timothy McManus said.
And that's the sentence Rund got — a misdemeanor: four months in jail, the rest of the one-year sentence stayed, three years probation, no booze.
"Basically, young and dumb," the judge said. "Pretty good kid who did a bad thing, and you affected a lot of people, but you got a lot of promise in your life, too. Okay. That's what I see when I shake it all up. That's really why the Court is doing what I am doing."
McManus showed some heart.
Today, the Minnesota Supreme Court said the judge shouldn't have done that, ruling that none of the reasons for departing from the state's guidelines for the crime are allowed under the law.
In so doing, it illuminated an interesting question surrounding the rules that were designed to provide consistency in sentencing from case to case: does a particular characteristic of the person matter when departing from sentencing guidelines?
The Supreme Court said factors such as a defendant's amenability to probation or treatment, or his/her remorse, do not. Only factors that reduce the seriousness of the offense are legally permissible for departures from sentencing guidelines.
"The district court emphasized that Rund did not actually intend to carry out the threats, suggesting that this fact might mitigate his culpability," Justice Margaret Chutich wrote in today's decision.
But that fact does not distinguish Rund's crime from the typical case. His offense was recklessly threatening a crime of violence. An offender who disregards the risk of causing terror is unlikely to intend to carry out his reckless threat. Accordingly, it would be rare, rather than typical, for an offender in Rund's position to intend to follow through on his threats. Rund's lack of intent to carry out his threats does not make his crime substantially less serious than the typical case.
Chutich said Rund's remorse did not lessen the offense. She also rejected his attorney's claim that Twitter threats are less serious.
"We recognize that some users of social media may make more exaggerated or extravagant statements than they would in other contexts, and the forum certainly allows a user to post these types of statements, including a real threat, instantly without much deliberation," she acknowledged.
But, she added, "Rund did not send one misguided tweet; he tweeted five separate times, including a threat to use a grenade to kill police officers. He used Twitter to threaten multiple police officers simultaneously, which made his conduct more severe than a threat against a single person.
"He also used Twitter's 'mention' mechanism to increase the likelihood that the targets of his threats would actually see them," she wrote.
Chutich vacated the sentence, sent the case back to district court where a new sentence will put a felony on his record and brand him a terrorist in the eyes of the law.
And it all started because he drove eight miles an hour over the speed limit.